How To DIY Your Boutique Website Copy (And Where to Focus Your Efforts!)
In an ideal world, when you build a new website or a new brand, you employ the services of a professional copywriter to help you nail down the language and tone.
But let's be honest - not every business has the budget to hire a copywriter, especially when they are just starting out. So as the business owner, it means YOU need to wear the copywriter hat for a while and figure out how to DIY the verbiage for your online store.
But where on earth do you even start?🤦‍♀️
I'm glad you asked because I'm ready to share the 5 Key Areas you should be focused on when writing copy for your website. (And I'm not going to mention blogs, so don't worry!)
Does website copy really matter??
Before diving into my top tips, let me first address this very common question! Does website copy really matter??
The short answer is YES and here's why. A fantastic website isn't just one with great graphics and an attractive logo - it's the WHOLE package. It's an online store that's easy for customers to navigate, one that's visually attractive and crafted for the target audience.
And your website copy or verbiage is a vital piece of the overall conversion puzzle!
That's why here at Hot Mess, we include copywriting services in our full website design + build packages - because we know the correct copy makes a good first impression, keeps customers engaged, and leads them to take meaningful action.
Where should I focus my copywriting efforts?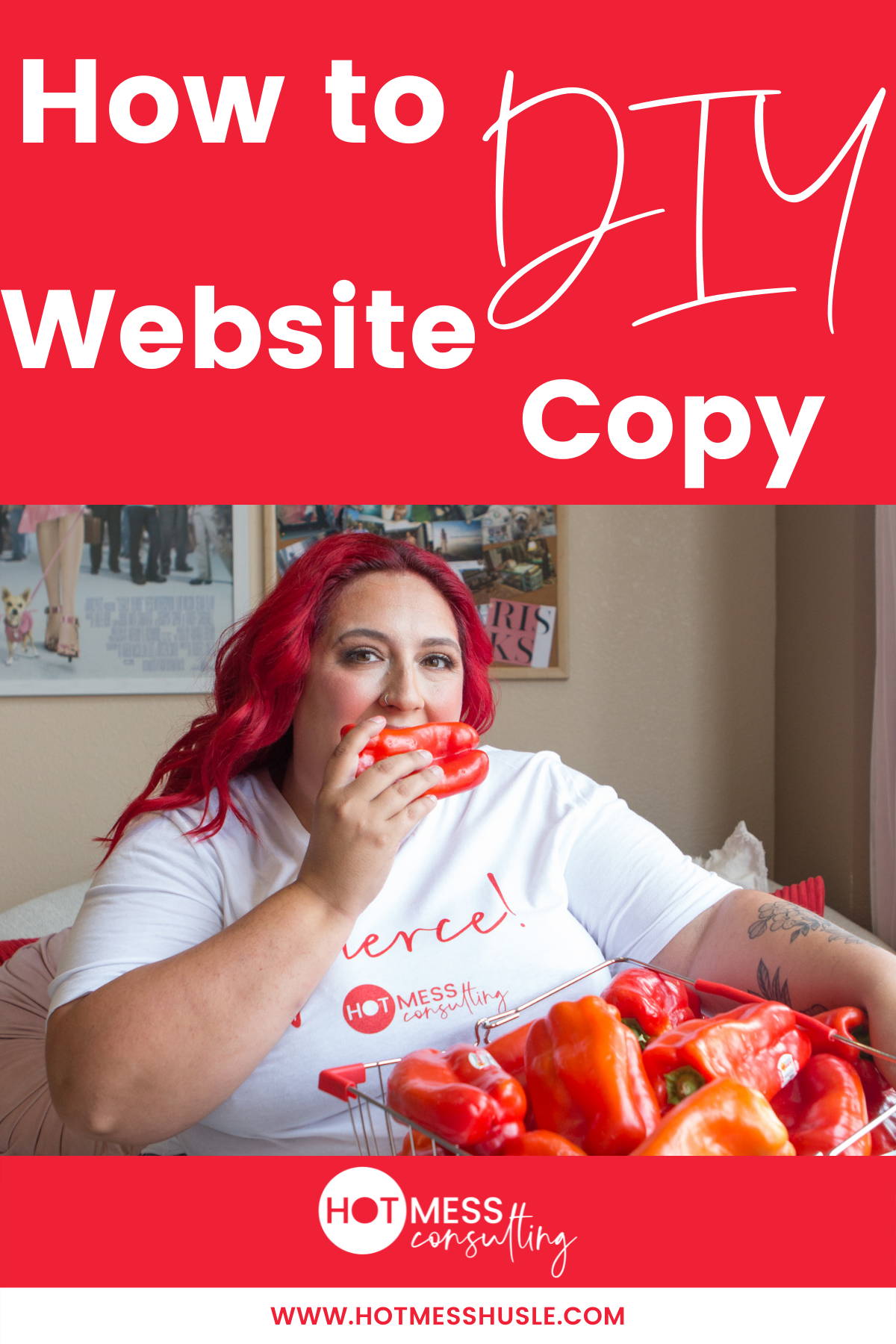 ALL website copy matters and there are tons of places to work it in - search bars, button text, banners; every single place that words appear on your website is an opportunity to connect with your audience and help them remember your brand.
But there's a lot of words on a website, right? Enough to send you straight to Overwhelm City if you start to think of writing everything!!
So don't do that.
Instead, focus on these 5 Key Website Copy Areas first. Once those are in place, you can slowly start working around your website and improving copy a little at a time. Slow and steady wins the race!
#1 Website Meta Title + Meta Description
Your Meta Title + Meta Description is the text that shows up on search engine results pages i.e when someone searches for your store.
This is an ideal place to start with strong copy! First of all, imagine that someone knows absolutely nothing about your business. How would you tell them what your company sells and why they should click through to your store? Whatever keywords you've chosen for your store should appear here too. Think of this as a tiny ad space!
Your landing page is usually the first page that new customers see, so you want to make sure that all the copy is easy to read (no big chunks of text, no spelling errors) and appealing to your ideal client.
Your customers want to know that there is a real person behind the business - it helps them feel safer to make a purchase - so don't skip out on this task.
We've got a blog all about About Pages (and how to write the perfect one, first time!) ---> check it out here.
(If you haven't created an email newsletter opt-in for your store yey, we highly recommend it! Email marketing is still one of the most effective strategies in the e-commerce world, so it's well worth your effort.)
Your email opt-in text will usually appear in a pop-up or in your footer. It's a small ask - just an email address - but get creative about how you ask. Sure, you'll get sign-ups even if the text is really generic, but you could be using this space so much better!
A Call To Action (CTA) is a marketing term which basically is a word or phrase that invites someone to take a specific action. 
They are specifically worded in such a way that your audience does the thing that you want them to do - and they appear on buttons for someone to click on to take action. These might include: signing up to your newsletter, adding something to cart, adding to a wish list, booking a call, or even shooting you a message.
Now, these might seem blindingly obvious, but you won't believe how many folks get CTA's ALL wrong!
Google Images is the second largest search engine in the world. It accounts for more than 20% of all queries Americans performed in 2018.
This means that you can also get traffic from an image search if you add Alt Tags - Alternative Text - to your images to describe it, to help Google know what the image is.
This text needs to be short and sweet, and above all, clear.
(To add alt text in Shopify. Upload an image > Click "…" > Click "Edit alt text")
At the end of the day, your website copy should be ticking all these boxes:
✅ Reflects your unique brand voice
✅ Clear, easy-to-read concise language
✅ Grammatically correct
✅ Encourages your reader to take action
✅ Fun to read!
But it probably won't happen overnight! You'll need to keep working on your copy, and trust us - it does get easier with practice.
Remember if you need help with your Shopify or CommentSold boutique website - we're the girls for you! Check out our full branding + website build packages here!
XOXO,
Jessica
---