Signature | $6,950
Full Custom Branding Development
Site Build, Design + Optimization
Social Media Starter Kit
Social Media Engagement Booster Pack
3 For Print Item Designs (of your choice)
Spently/Uporder Transactional Email customization (App fees not included)
Marketing emails (Klaviyo, Mailchimp): 1x Welcome email + 3x Re-Usable Templates
Packing Slip customization (app fees not included)
Canva Brand Kit Customization (Pro Plan only)

SELECT PACKAGE
Signature Lite | $4,450
Full Custom Branding Development
Site Build, Design + Optimization
Social Media Starter Kit
Social Media Engagement Booster Pack
3 For Print Item Designs (of your choice)
Spently/Uporder Transactional Email customization (App fees not included)
Marketing emails (Klaviyo, Mailchimp): 1x Welcome email + 3x Re-Usable Templates
Packing Slip customization (app fees not included)
Canva Brand Kit Customization (Pro Plan only)
SELECT PACKAGE
Frequently asked questions
We assign Project Start Dates on a rolling schedule based on availability and booking date. (First come, first served!)
Most projects take approx. 4-6 weeks after your project start date as long as we receive everything we need from you on time.
If you have a specific launch goal or deadline for your website and want to discuss this before booking, please do reach out.
We also offer a rush/priority project fee of $1500 if you need to get started immediately and remain top priority (though we can only allow a limited number of clients to hold priority status at once).
Once you book, you'll land on a very short easy intake form that we'll need you to complete!
Within 1-2 business days, you will receive an email with our basic (industry standard) legal agreement, estimated project start date, and a list of items that you can start gathering or thinking about before we get started!
Shortly after that, you'll receive an email from you project manager introducing themselves and you'll get their call booking link to book your onboarding call! And then we are off to the races! Or the mall, I think that sounds more fun!
Yes! We offer both Sezzle and ShopPay payment options (if you qualify), making our services super affordable*! As well as in-house payment plan options if you want or need to go that route instead (interest free, just a small administrative fee to cover the additional admin management time involved).
*ShopPay details:
With ShopPay, if you qualify, you can split your payments up into 3, 6, or even 12 months! For example, an $800 purchase could be split into 12 monthly payments of $72.21 at 15% APR, or 4 interest-free payments of $200 every 2 weeks.
Rates from 0% APR or 10-36% APR. Payment options through Shop Pay Installments are subject to an eligibility check and are provided by these lending partners: affirm.com/lenders. Options depend on your purchase amount, and a down payment may be required. State notices to consumers affirm.com/licenses.
In-House Payment Plan Options:
While we would love you to use Sezzle and ShopPay - so we don't have to fuss with managing payments - we also offer in-house payment plan options.
Here are the details on that:
Full Pay: for our full Signature package, this is $6,950, paid upon booking
2 Pay: This incurs an administrative fee of $150, so this is 2 payments of $3,550. First payment due upon booking. Second payment due 3 weeks later (unless we are starting your project past that point, in that case, we request the second payment to be due the week we get started on your project).
3 Pay: This incurs an administrative fee of $200, so this is 3 payments of $2,383. First payment due upon booking, second payment due 2 weeks later, final payment due another 2 weeks later.
Our Signature Lite package follows similar rules to above, but the full cost is $4,450, or 2 payments of $2,300, or 3 payments of $1,550.
Please don't hesitate to ask if you have any questions about our payment plans/options. We want to make this accessible for you :)!
The extra costs you might want to think about are:
(Optional) Photoshoot for updated photos for your website
Shopify Theme (these are paid directly to the theme developers - we will help you pick the best theme - and range from $200-$400)
Platform related Monthly costs (Shopify/CommentSold, klaviyo or another email marketing platform, any Shopify apps needed for extra special features)
Other than that - what you see is what you get in our packages! There is no monthly fee or fixed term contract when working with us! That's one of the things that makes us different! We provide you with basic training on swapping out photos and uploading products, so you can do this ANYTIME!
We do offer monthly website update packages (which some clients love) and are always available for future help (big or small) - but it is not needed if you or your team will be managing your website going forward.
Your Shopify theme. You do need to purchase your theme. This is $180-400 and is a one-time fee.
We do not include any product management within this package - though we can train/advise you on what you need to know here. This includes product upload/migration, syncing/integration, bulk editing/tags, photos/descriptions. Or product migration can be added-on to your project at an additional cost.
Full wholesale setup (for a wholesale only, or combined retail/wholesale site) will incur an additional cost as we have a whole list of additional items that we work on with you if you sell wholesale!
Your monthly website and/or email marketing platform costs. Shopify starts at $29/month, for example.
We specialize in the boutique clothing, gifts and accessories industry; however, we work with all kinds of businesses.
If you have a business where you sell or want to sell any physical or digital product or service, our packages are designed for you! If you are in a specialty niche or have more advanced website needs - we may need to provide a custom quote and are always happy to do so! We can also chat if you book a call with us here!
That's not a problem! We can easily work later in the evening, or earlier in the morning (preferred). We also can work on weekends if that is the only time you can focus.
Yes! We are proud Shopify POS partners and can help sign you up, ensure you are on the right POS plan if you are already utilizing it, guide you to the right resources, or even handle your migration from another platform. The migration isn't included in our package rates but can be added on!
Our branding and website optimization packages do not include SEO or other marketing platform setups; however, we do localized SEO during our process, image uploads, alt tags, accessibility backend tools, and email automations.
We want to help you maximize the results (and drive more traffic) to your website once it's beautiful and fully optimized. We can chat about your marketing needs during or after your project with us as we have resources and trusted partners we can refer you to!
Your logo is a great starting point in your branding! But there is a lot more to a solid brand than just that! So we are happy to start with what you have - and help you grow even further in this area!
We need to make sure you have all the logo files and types you could need for different purposes, a full color scheme and clear typography choices and nail down the overall vibes/aesthetic. This is a great opportunity for existing business to re-align or refresh their current branding or even to re-brand if you are feeling a shift is needed.
We designed our Signature packages to support biz owners with both branding and website optimization - because they go hand in hand! Many clients do already have a brand in place when they work with us, so they use this project, as I mentioned, as an opportunity to strengthen, tweak and/or revamp that with our expertise.
We know you'll fall in L-O-V-E with the designs from our expert team! When you work with your dedicated designer, they'll listen to what you want and work to incorporate elements that reflect your style to craft a unique brand for your business.
Still not sure?
We offer a free consultation to discuss your unique businesses current needs and challenges. We'll help you decide whether working with us is the right move and which package is best for you!
We are open books, and we will tell it to you straight. Even if we think you should be working on something else entirely first! And we have plenty of trusted industry partners to refer you to, if that's the case too!
We are here for you, let's chat!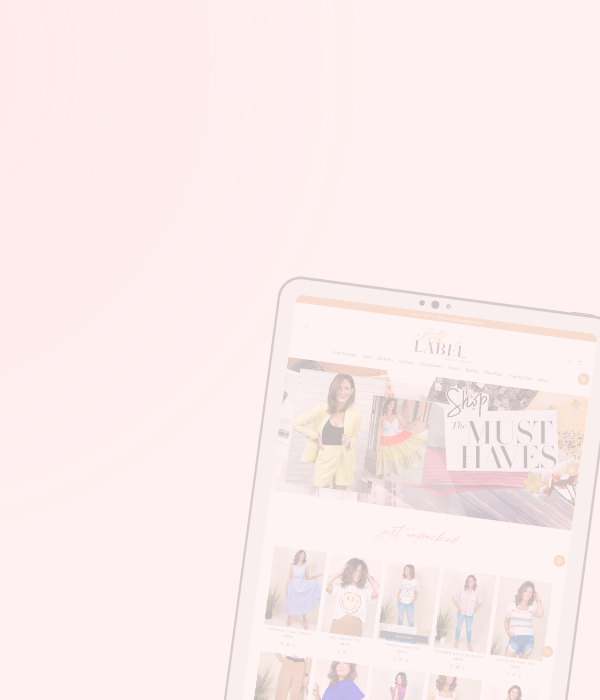 over 2,500 clients served