7 Lessons for Running a Successful Shopify Store | Celebrating 3 Years of Hot Mess!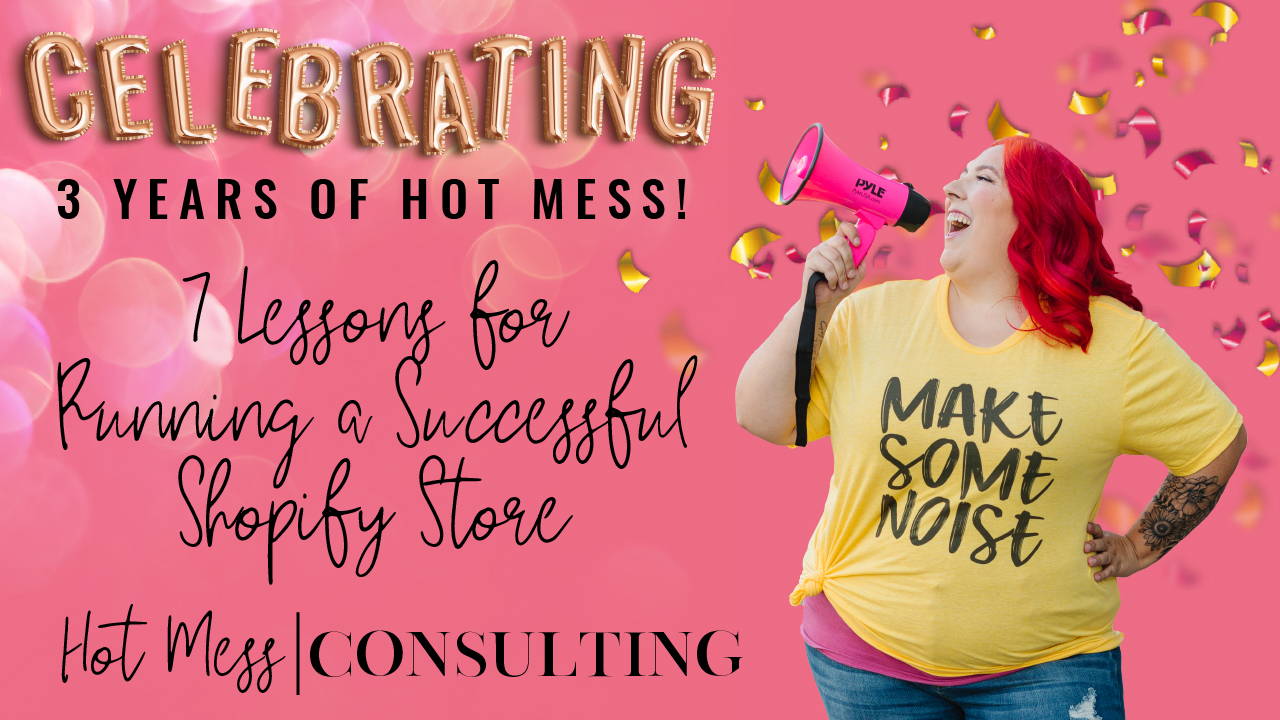 Big news this month... We are celebrating our 3rd birthday here at Hot Mess!🎈

Never in my wildest dreams did I imagine that we would get here, especially when I think back to those early days. So today I wanted to share my story today, along with some lessons I've learned about how to run a successful Shopify store!

So whether you're just getting started, or you are thinking about how to scale - hopefully there is something in here that is useful for ya ;)

VIDEO MORE YOUR JAM? WATCH IT HERE:
---
Getting Started In Ecommerce
This story actually goes back about 5 years, when I was super sick and still battling a super rare tumor in my hip (a Desmoid Tumor). I'd had multiple surgeries, I was on a seriously intense regimen of dripped antibiotics that I had to administer myself every 3 hours, and I was mostly bed bound. It was the worst.
But here's the kicker: even though I was healing, I was totally afraid of what would happen when I was better. I did not not want to "go back to normal." Now, I mean going back to living the same damn life that I was living before. Nope. I was miserable at my job. But deep in my heart I always knew I wanted to be an entrepreneur. So I figured this was my chance.
That's when I started my first business - my online and pop-up women's clothing boutique Thongin' It. And believe me when I say that was not an overnight success. It was hard, it was mentally and physically hard. I originally planned on focusing solely on the pop-up aspect and had to shift gears to sell online and do shipping as well.
And I was doing this on the side of my job still - on my lunch breaks! This went on for some time. I was burning myself out, and burning through cash doing pop ups and events. Everything that could go wrong, would go wrong. I lost money at shows. There were a lot of tears. It was hard!
But all the struggles, one by one, slowly taught me what works and what doesn't work.
And that was my first lesson: there is no overnight success - it takes trial and error. So you have to be persistent!

What Happened Next: Building Up Thongin' It
Sooo… fast forward a bit and now I was starting to bring in $1000s each month for the boutique, but it still wasn't profiting enough to pay all my bills. It was around then I quit my job. Was it scary? Heck yes. I had doubts, worries, I had no idea how I was going to make it work. But in the end, I knew I just had to commit.
Lesson 2: A lot of the time, you have to do it scared!
Ellen Johnson Sirleaf — 'If your dreams do not scare you, they are not big enough.'
After that, I started to look at the numbers and I could see what was working. I doubled down on that, and I made profit my priority. I very quickly figured it out and had my highest revenue AND profit months ever for my boutique.
At that point I made a deal with my boutique photographer and I ended up doing her website and logo. This was super fun and.... I saw how much of a difference good branding made. This was my third lesson learned.
Lesson 3: Take yourself and your businesses brand identity seriously! You have no idea how important this is!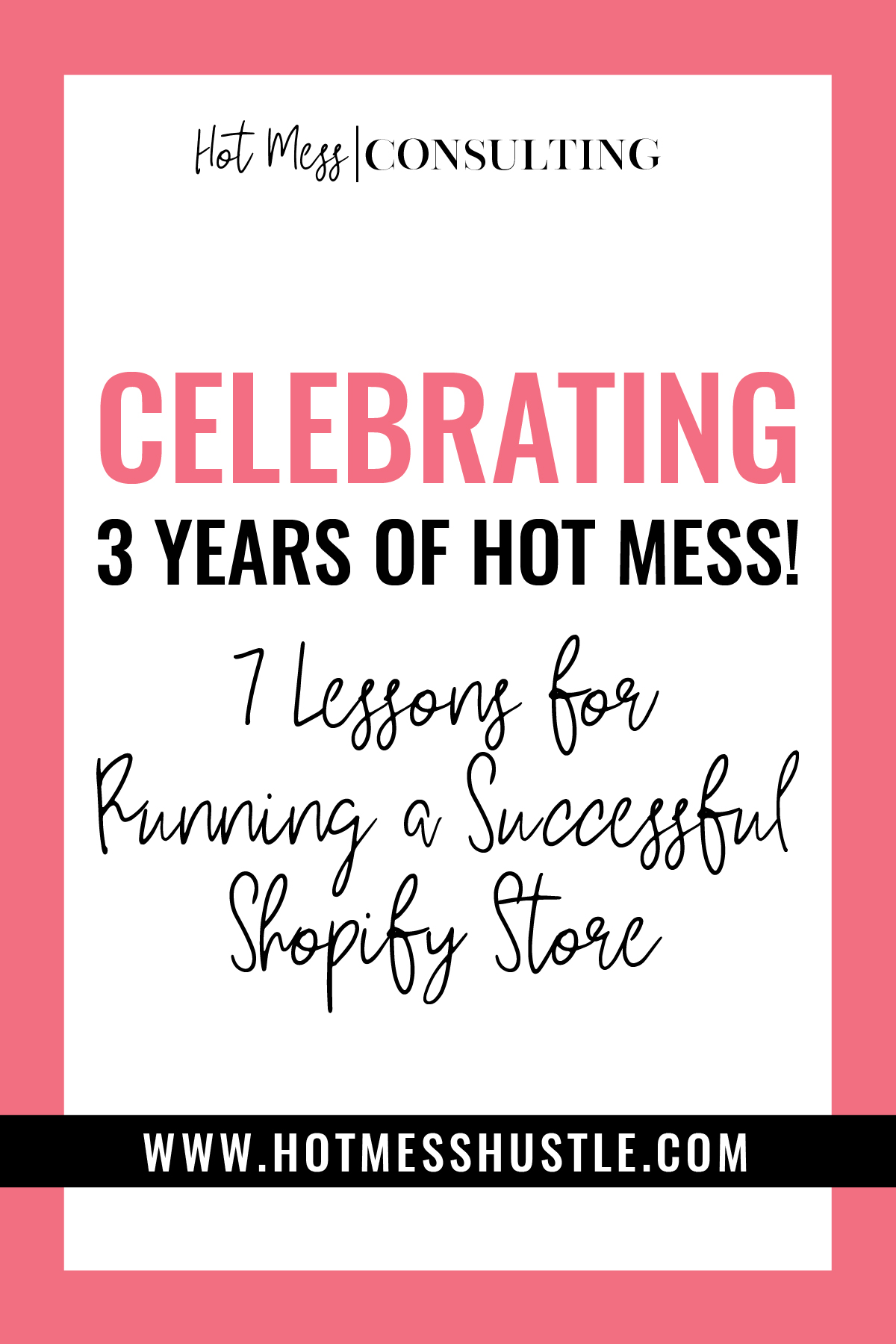 From Boutique to Consultancy
After working on my photographer's website, suddenly I noticed a need from my fellow boutique owners for the same sort of help! So around 3 years ago, I tested it out. After completing a free makeover for a boutique bestie of mine to try it out, I then got my first paying client. $150 to set up their first Shopify website. And boy - did I do a lot for that $150 - I'll tell ya! But this really taught me so much about how to offer this as a service for others.
From that point, I decided to dig in. I arranged a photoshoot for Hot Mess and I started to establish my brand. But my rates were still super low, and I was very quickly in way over my head. I made a lot of mistakes in the beginning, but I learned a lot too.
Today, we have expert graphic designers, coding developers, copywriters, project managers. Together, we are a super strong team and this was a major lesson too.
Lesson 4: You can only wear all the hats so long if you really want to get to the next level in your business!
Imagine if you could let go of some of those hats to focus on what you're actually best at and brings in the revenue (AND even allow someone better than you to take over on the things that you aren't that great at)?
When I started to do this, it took off. We have gone from a team of 3 to a team of 18 in the last 18 months alone. And we have helped over 1000 clients. And - believe me, in this industry, that's no joke!
Optimizing My Business
Back in the beginning - I was merely offering a coat of lipstick for your website. But it didn't take long for me to learn that this was actually very serious business. Working on that surface level stuff is fine for some business owners, that's where they are at. But digging into the nitty gritty details of what actually gets your website visitor to stay on your site, find what they're looking for, and complete their entire purchase journey - it's about the smallest details!
And for businesses that are driving massive traffic - those details can have a huge impact to their bottom line. This is such an important lesson in ecommerce but so many business owners think they don't even have time for it.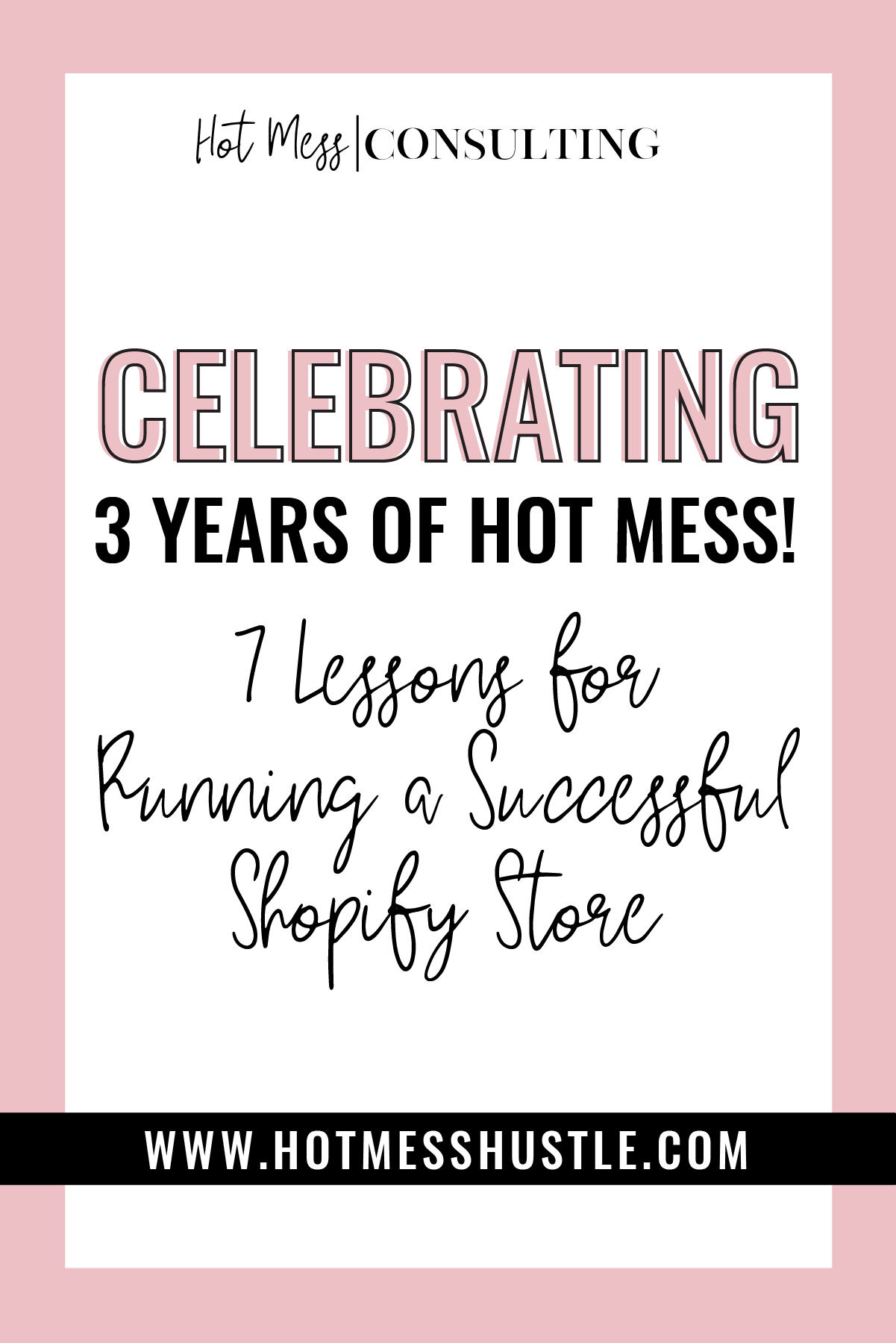 Lesson 5: Always be optimizing! This relates to everything: your website, your customers or clients experience, from marketing through to the end product (the package that shows up on their doorstep in a boutique owner's case).
Always 👏 be 👏 optimizing 👏.
And today?? We are officially on track to hit our first 7-figure year. But we ain't resting!
We are still optimizing, and right now we are going through a major process revamp really on both sides of our company right now (our deliverables side AND our sales/marketing side) --- which is also all going to be a culmination of everything I've learned so far from the challenges, pain points, and struggles along the way. We are diving deep with each and every client to give them the best service possible.
This is so much more than taking an order for a website - we're here to guide you and educate you while we work on strengthening your brand and truly optimizing your website and the experience your visitor has on that website to make an impact on your actual results.
For our clients, we have seen this pay dividends. And we love the results as much as our clients do. 
The lesson?
Lesson 6: Don't be afraid to invest in your business.
---
---
But be wise about it! Know when there is more to be gained - and sometimes it's not always financial right? Some investments provide education/lessons or knowledge that is worth far more than any amount of direct revenue ever could be. Trust me.
Final Thoughts
The last thing I want to leave you with today is that if I had given up when it got hard, or when I thought it wasn't going anywhere, or growing as fast as I wanted, I wouldn't be here today. It does take grit and it takes perseverance, and it is hard, but I'm here to tell you it's worth it.
Lesson 7. Success takes time!! Don't give up just before the good stuff!!!
And that is the story of Hot Mess!
From a small but successful Shopify store to a multi 6 figure Shopify branding boutique - it's been a wild ride. I want to say thank you to my team, my clients, my family and friends - just literally everybody who has supported me in any way with either business!!
Wherever you are in your business, it's so important to believe in yourself. And we believe in you! So cheers to your success too, you rock star!🍸
NEED HELP WITH YOUR WEBSITE?🤩
---