The Five W's Of Social Media Marketing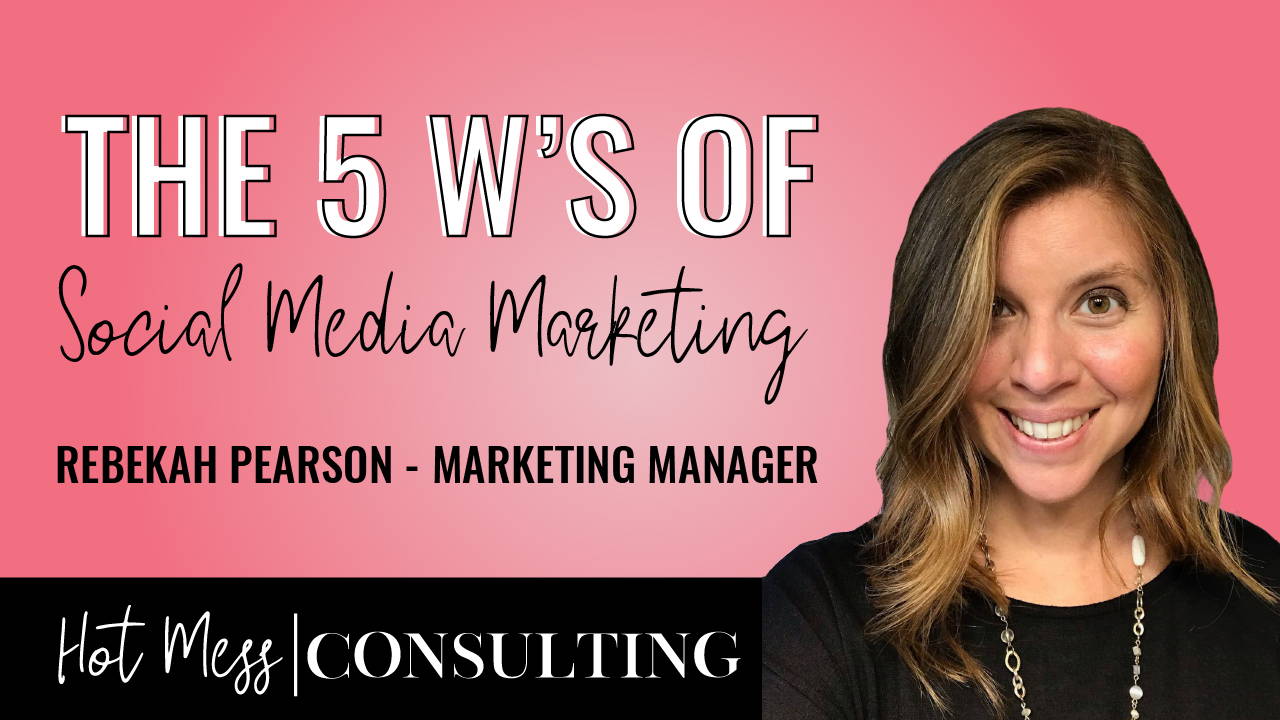 ⭐THE HOT MESS TEAM BLOG⭐
This month: Marketing Manager Rebekah unpacks Social Media Marketing

Hey ya'll! Rebekah here; the Marketing Manager over at Hot Mess Consulting.
 

We all know that social media is a fantastic tool for business owners. And it's not just about paid advertising; there's an amazing opportunity to grow your business on social media organically. (Have you read our recent blog all about Paid vs. Organic Marketing?)
In a world that's SWIMMING in social media, it's essential to know WHY your biz should be on social media, so you have clear goals for your business when using various platforms. The "why" may seem pretty obvious, but let's highlight a few points…
👉NO COST When you're running a small business, you need to be wise about your financial investments, and social media is FREE.
Sure, there are ways to invest in these platforms financially, but you can do a LOT without spending a dime. Compared to other marketing channels, social media provides a way for any business to engage with your clients in the most cost-effective way possible.
👉SOCIAL PROOF. Your people are on social media. And not only is social media WHERE your people are, but it's also where they TALK. Word of mouth is SO important, and when people are researching companies to purchase from, they want to know what people are saying. According to Google, social media is one of the primary places that people look for information about the businesses they engage with. In fact, a third of internet users research products and brands on social media!
👉INCREASE AWARENESS + SALES. When your customers engage with your biz on social media, they're more likely to buy from you, and they're more likely to recommend you to someone else! Sprout Social found that when people follow you, "91% [of consumers] visit the brand's website or app, 89% will buy from the brand and 85% will recommend the brand to a family or friend."
Of course, there are TONS more reasons WHY you should be on social media, but what about the other W's? You know, Who, What, Where, and When!
Let's go beyond the Why and look at how you can optimize your social media marketing strategy!

---
WHO?
When it comes to WHO, it's all about connecting with your community! Who are your people? What do they want to know? What makes them laugh? What will inspire them? What are their problems (and what's your solution)?
When you're using social media, make sure you know who you are talking to - then speak to them!
what?
It's important to know exactly WHAT you want to say and how you'll say it. In other words, you need to have clarity in your messaging.
This starts with having clarity around your brand (including your brand voice), your product or service (what exactly is it), your community (your ideal customer), and your call to action (what you want your audience to DO).
(Need help getting clarity around your brand? Work with our team of experts to develop a brand that you and your customers will LOVE!)
Once you have clarity, you can distill your messaging to be clear and concise, making posting on social media a breeze.
where?
This comes back to knowing who your community is and figuring out where they are. Which channels are your potential customers on? Is it Facebook? Instagram?
Find out where your customers are, then go there and go ALL IN!
when?
It's less important which day or what time you post, although, through great analytics, you can find out when your followers are most active. What's important is that you are consistent. Whether it's 2-3 times a week, or 2-3 times a day, show up when you say you will!
---
And beyond that - connect! Whenever you decide to post, make sure you have time to engage with your people. If they comment, comment back!
Pick a schedule you can stick to and engage when you post on social media.
Social media marketing doesn't have to be a mystery. Get on the right channel(s), have clarity in your messaging, be consistent, and connect with your community!
And If you need help with your website - remember that we're the girls for the job!
---
1 comment
---
---