What is the Difference Between Shopify and Shopify Plus?
Many thanks to our friends at Vincit for this juicy info!
Shopify is an excellent ecommerce platform that helps individuals and small businesses launch an online store. Once your ecommerce store grows, however, you may need more tools and resources than the standard Shopify plans offer.
This is where Shopify Plus excels. The top-tier platform offers the features and tools of the lower Shopify plans, along with a customizable experience through exclusive features and integrations. You also get dedicated support options and resources to scale your business.
Generally, Shopify's plans are for small- and medium-sized business owners, while Shopify Plus is an enterprise-level platform.
Despite all its benefits, Shopify Plus can be too much for a small business that isn't ready (especially in costs), so check out the differences between the two.
If you're familiar with the existing Shopify plans, Shopify Plus has everything they offer and some exclusive features and options.
Here are some of those features:
Customizable Shopify Themes
Shopify's standard plans offer custom themes using editor, but you're still restricted to the preexisting themes to an extent. Shopify Plus offers a higher degree of customizable with Liquid, Shopify's specific theme language. This allows customization at the code level.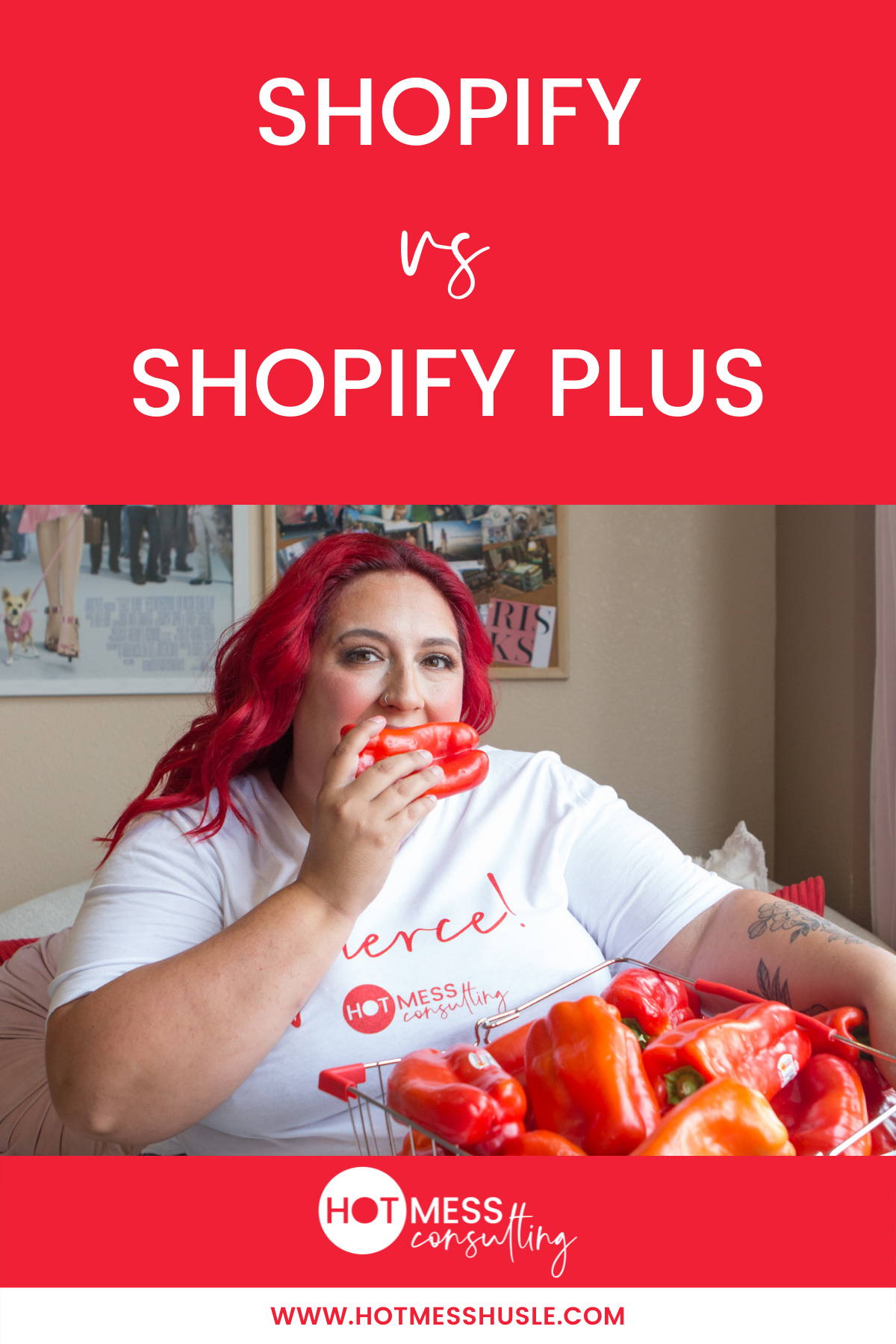 Launch Engineer
While all Shopify plans offer support and guidance through email, chat, or phone contacts, Shopify Plus delivers dedicated support to its users with the Launch Engineer. This enhanced feature provides support through the whole setup and migration process.
Unlimited Staff Accounts
Each Shopify plan offers a specific number of staff accounts. For many businesses, only a few team members would have access to the store. When you scale, however, you may need to add a lot of team members or full departments.
Shopify Plus offers unlimited staff accounts and permission settings, so you can restrict access to certain features for specific team members as needed.
API Integrations
APIs allow integrations with third-party apps. Shopify Plus takes this a step further with API integrations for payments, seamless login, and administrative capabilities. GiftCard is one option that provides another payment method for your customers, while Multipass redirects visitors to your store without the need to log in again. User helps you manage staff accounts and permissions. You can also build private apps.
Complete Checkout Customization
The checkout experience is a big part of customer experience. Shopify Plus allows you to control nearly every aspect of the checkout for a positive experience, such as activating discounts based on cart values, adjusting the number of pages to purchase, and more. Checkout customization also integrates with Script Editor, which allows you to customize aspects of the checkout like the payment options or shipping methods.
Wholesale Options
If you're looking to open your business to B2B or wholesale, Shopify Plus is a must. The wholesale channel for Shopify Plus provides a separate, password-protected storefront that sells wholesale products in bulk at exclusive prices or offers wholesale-only products. You can manage every aspect of the wholesale and retail channels, including product data and invoicing and tracking, all from the same centralized hub.
Centralized Dashboard
One of the challenges of scaling is managing all the stores, permissions, automation tools, staff accounts, analytics, and app integrations.
Shopify Plus brings it all together in one place, streamlining your processes and making it much faster and simpler to run multiple channels or stores for several countries and languages.
In-Depth Analytics
Both Shopify and Shopify Plus offer an analytics dashboard with information about landing pages, products, sales, return customers, and more. Shopify Plus takes it a step further with detailed analytics that come from top analytics companies to get deeper insights into trends and behaviors.
Systems Integrations
Numerous apps can connect with a Shopify store, which is a big part of why the ecommerce platform is so beneficial for businesses. High-volume businesses may need more integration options, however, and Shopify Plus delivers. Some of these integrations include:
Customer relationship management

Enterprise resource planning

Product information management

Third-party logistics

Global fulfillment partner

Warehouse management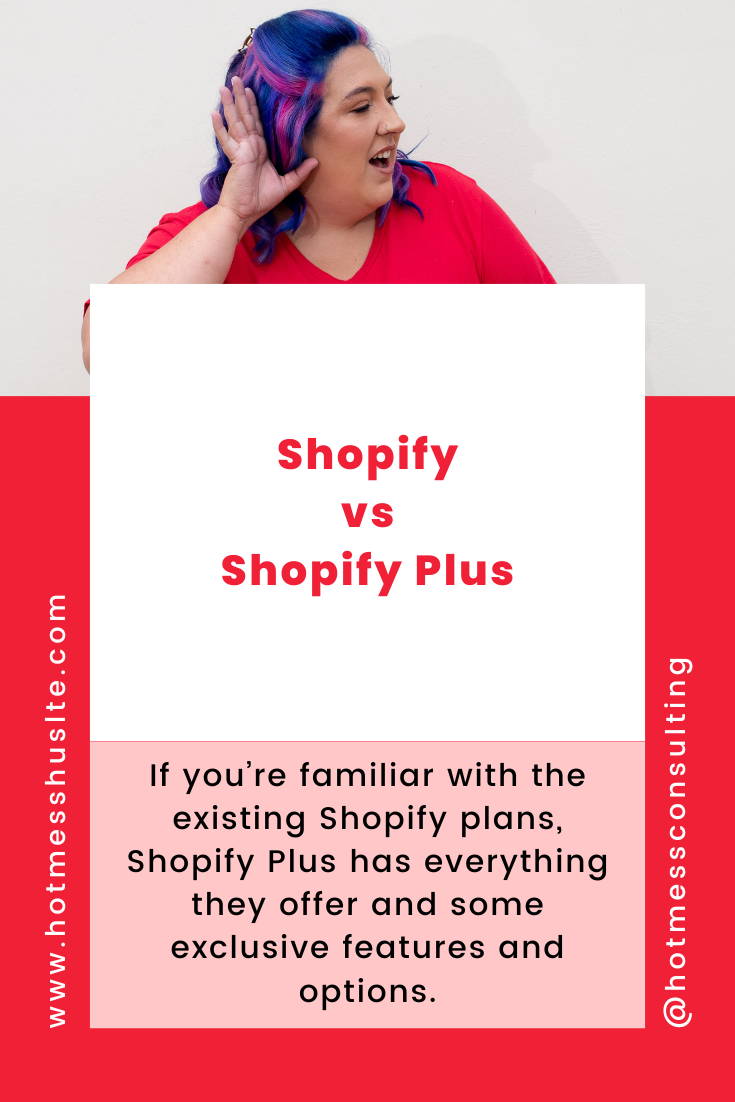 Exclusive App Integrations
Shopify Plus expands on the third-party apps of Shopify, such as:
Shopify Flow, an ecommerce automation platform with triggers for actions and conditions.

Wholesale channel for B2B sales

Script Editor for customizing the checkout feature

Launchpad to plan and execute product launches or flash sales

Bulk Account Inviter to bring your customers from another platform to activate their accounts
Additional Resources
Shopify Plus provides all you need to succeed, including the Shopify Plus Partners to help you stay current on trends and plan events, and dedicated support with all aspects of launching and managing your store.
You'll also receive access to Shopify Plus Academy to learn the platform and the Partners directory for technology and other Shopify Plus agency partners. The Shopify Plus Facebook community is a helpful tool to learn from other business owners on the Shopify Plus platform.
How Much is Shopify Plus?
When it comes to enterprise-level businesses, Shopify Plus has nearly every base covered. This plan does come at a cost, however, which may be too restrictive for some business owners.
Shopify Plus fees vary, but the plan starts around $2,000 per month or 0.25 percent of sales volume (whichever is greater). This number caps at $40,000.
That's a lot of money each month, but remember that Shopify Plus is intended for large businesses. Most experts recommend making the switch if you're getting at least $450,000 in revenue, though many businesses wait until they hit $1 million annually.
By comparison, the rest of the Shopify plans range from $29 per month to $299 per month. You can get plenty of features with these plans, including multichannel sales tools, built-in shipping labels, credit card processing, and a full range of payment processing options. But the lower cost also comes with limited staff accounts, higher credit card processing fees, and fewer features overall.
Shopify vs. Shopify Plus Breakdown
Shopify Plus is the closest thing to an all-in-one platform for enterprise ecommerce. With its high fees comes a full suite of tools, features, and capabilities that enhance the user experience, business processes, sales capabilities, and growth potential.
For example, with Shopify Plus, you can enjoy practically unlimited bandwidth that can handle up to $10,000 transactions per minute. This is helpful for high-volume sales during peak buying seasons or sales periods, such as Christmas and Black Friday.
Shopify Plus also boasts numerous automation features to aid with product publishing, customer segmentation, and inventory management. These tools save tons of time and effort with the day-to-day, leaving you to focus on your business-critical tasks and responsibilities.
If you're looking to expand into a wholesale or international market, Shopify Plus is worth the price and effort. The platform has multi-site options for different countries, languages, or wholesale products, so you can manage several stores or brands from one centralized dashboard. These stores are independent as well, so you can create specific promotions, marketing campaigns, and languages.
Is Shopify Plus Right for Your Business?
Shopify Plus has an expanded toolkit that's ideal for growth and high-volume sales in larger businesses. Though the pricing may be prohibitive for some, the plan pays for itself in the features, resources, automation, and enterprise-level tools that can boost your revenue and offset its costs.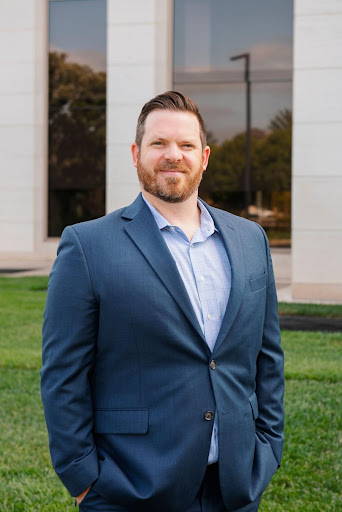 About the author: Sean Richards
Sean Richards is the VP of Strategy & Partnerships for Vincit. Prior to Vincit, Richards provided business development, digital marketing strategy and partnership development at several reputable companies and marketing agencies in both California and Arizona. He holds a Bachelor's Degree in Design Management from Arizona State University.
---