Shop Small: Pink Friday Promo To-Do List For Boutique Owners
Why wait to fight the crowds on Black Friday? Shop Small First on Pink Friday to support small businesses!

Pink Friday is almost here, and this is your moment to shine as a small business owner!
Pink Friday is a small business spin on Black Friday to remind people to #ShopSmallFirst and support their own local businesses!
Created by our friends over at The Boutique Hub, Pink Friday - 18 NOVEMBER 2022 - is one HUGE day to #ShopSmallFirst– before Black Friday and before the big guys roll into town.
And the best part? Any retailer can take part in this shop small event!
"We know small businesses and the boutique retail industry have been hit hard this year. These stores often get overlooked on Black Friday, but these are the real businesses we need to be supporting this year. By creating Pink Friday and positioning it the week prior to Black Friday, we're able to celebrate those businesses this holiday season and give them their own weekend to shine. If you are looking for the best shop small event for retailers, this is it!"
– Ashley Alderson, CEO, The Boutique Hub
Watch this video to learn more:
---
Ready to take part in Pink Friday? Here's your To-Do list: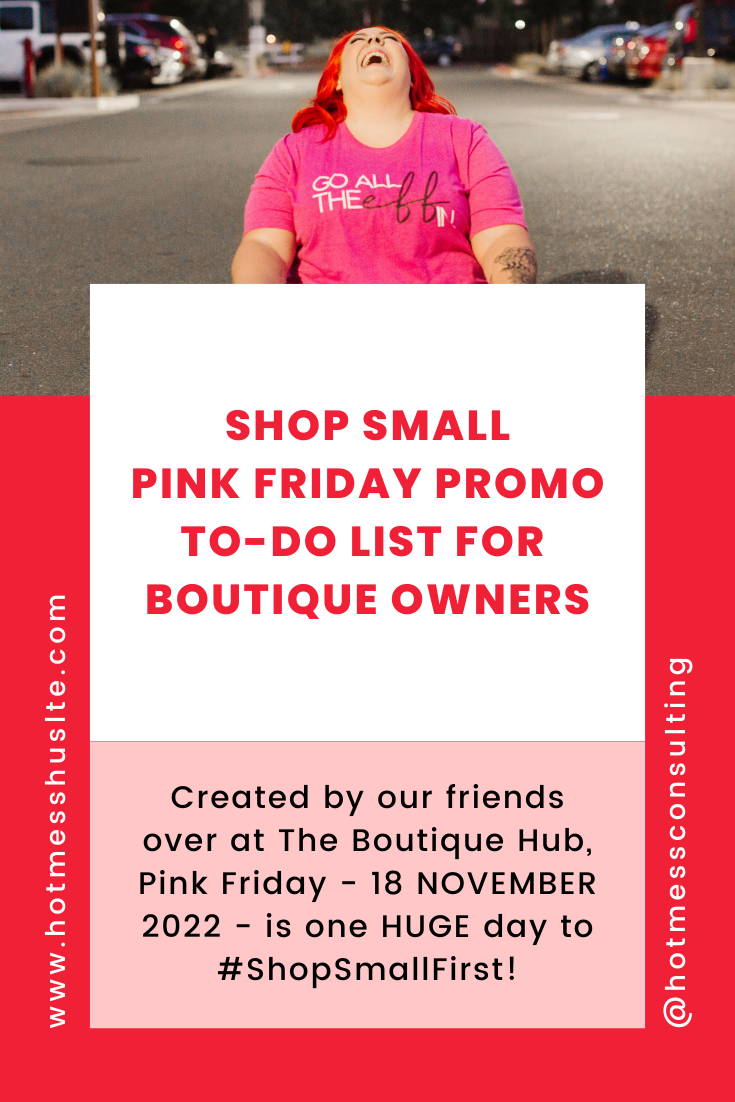 #1 First things first - get on the list! Head on over to the official Pink Friday page at The Boutique Hub to get your store on the ultimate #ShopSmallFirst map
#2 Make a list of your featured items, specials, and promotions for the day.
(Need ideas? Grab our Online Boutique Promo Guide - designed to help you plan ANY promotion.)
#3 Next, you'll need to sit down and make a list of promotional materials you will need - and create them. This may include:
Flyers to hand out in your community

Social media posts

Paid advertising

Marketing emails
#4 Create a Facebook Event for your store to let your customers know what's coming up!
#5 Begin promoting your offer at least one month before to build anticipation - that means you need to get started ASAP.
#6 Decorate your store and displays for Pink Friday - make it fun and inviting!
#7 Prepare your online store: set up your codes, specials, and discounts, and add graphics and text to tell your visitors about them.
#8 Promote your offers via email, text, social media, and in-store!
#9 On the BIG day:
This is it!!! Make sure you have enough staff on hand to attend to all your shoppers and keep things moving.
You might also want a fun in-store event (think pop a balloon for a small discount or prize), a play area, or to serve refreshments. The goal is to make the shopping experience as memorable as possible so go wild if you want!
Final Thoughts
The Boutique Hub has created an incredible opportunity here for small boutiques and businesses, and we highly recommend you get in on the action!
Pink Friday is an excellent opportunity to have a bumper sales day, connect with other small businesses in your area, and be a part of the Shop Small movement.
Do it!
Need help with your Shopify or CommentSold store? We've helped thousands of boutique owners build brands that sell.
And we'd love to help YOU next!
Book a demo call or email the team at support@hotmesshustle.com to start the conversation:-)
---