11 Ways To Drive More Traffic To Your E-Commerce Store (And Why Your Traffic Might Be Low)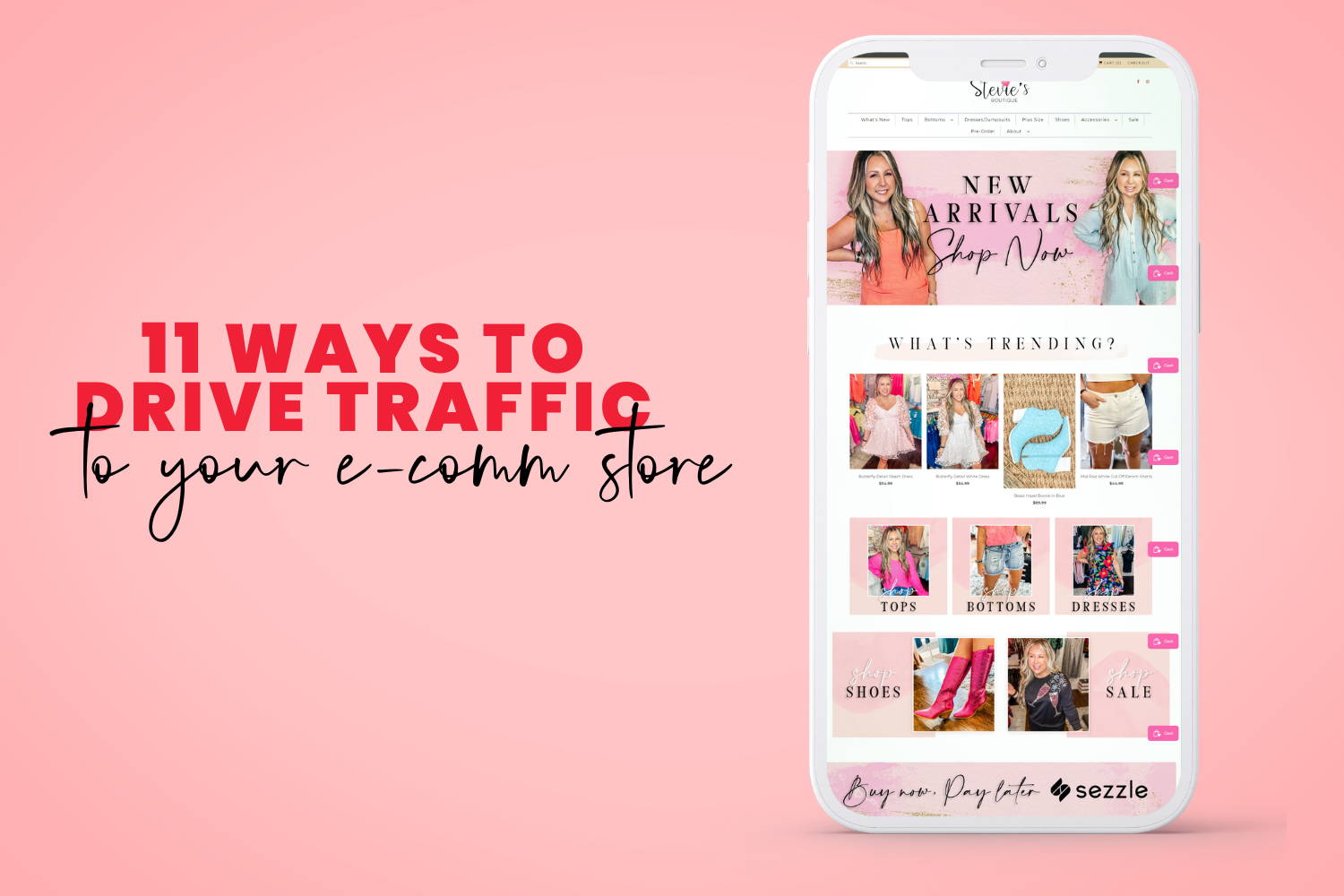 Congratulations! You've built your Shopify store; now it's time to start selling. But first, you need to drive traffic (interested visitors) to your website.


If You're Just Getting Started, The First Place To Start Is To Determine How Much Traffic You Need To Reach Your Revenue Goals. We've Got A Handy Free Tool (And A Step-By-Step Blog) To Help You Crunch Those Numbers!
---
---
The Importance of Driving Traffic
Here's why you need to be focusing on driving traffic to your store:
E-commerce has an average 2% conversion rate. This is the % of people who visit your store actually buy something. So if you really really want to increase your revenue, the smart thing to do is increase the amount of traffic that is coming to your store
For example: Say your goal is to make 10 sales per day. With a 2% conversion rate, you'd need to get 1000 hits to your website every single day
That's what I mean when I say that whatever you think is good in terms of traffic numbers, you really need to be looking at doubling it at least because you just need the numbers of traffic to leverage that conversion rate.
Remember: You must have done everything you can to optimize your site first. You want to get that foundation in place before seriously driving traffic to your site.
Okay, let's dive into proven ways to drive more traffic to your Shopify store!
#1 Fire Up Your Emails
If you're not using email marketing yet, today is the day to start!
Email marketing is a proven technique to help nurture customers who aren't ready to buy, inform current customers about exciting sales and industry news, and even win back past clients.
A good place to start is with a welcome email, an abandoned cart email series (2 or 3 emails), a win-back series (1-2 emails), and a weekly newsletter.
#2 Create Quality Blog Content
You can use quality blog posts to drive traffic to your website, but you have to work with a plan!
You can build credibility and let your audience get to know you by providing answers for potential customers through how-to blogs, videos, and shopping guides.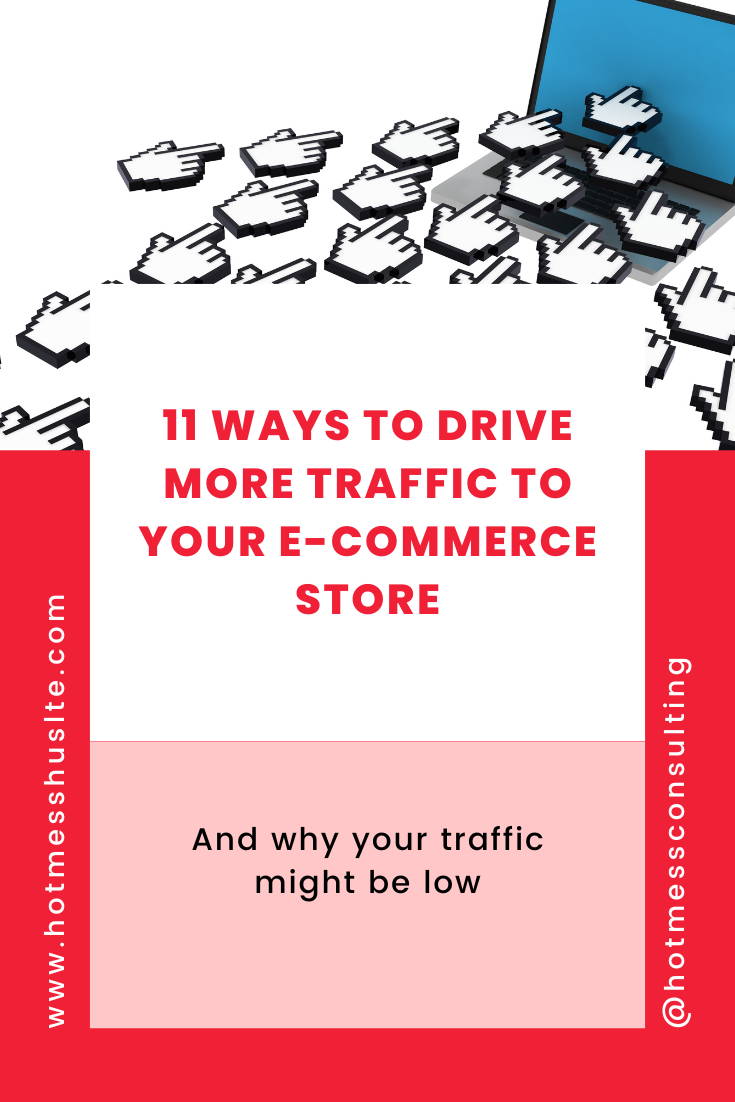 Here's the important part: you have to be consistent in publishing content. To let Google know your website gives good advice, publish at least once a week. Consistency can affect your Google ranking, so stick to your schedule to see results.
RELATED: https://www.hotmesshustle.com/blogs/news/seo-fact-vs-myth
#3 Use Social Media Marketing
Social media posts can help you engage with your audience, promote brand recognition and show off your products.
It's essential to know why your biz should be on social media so you have clear goals for your business when using various platforms. The "why" may seem pretty obvious, but let's highlight a few points…
NO COST When running a small business, you must be wise about your financial investments, and social media is FREE.
Compared to other marketing channels, social media provides a way for any business to engage with its clients cost-effectively.
SOCIAL PROOF. According to Google, social media is one of the primary places people look for information about the businesses they engage with. A third of internet users research products and brands on social media!
INCREASE AWARENESS + SALES. When your customers engage with your biz on social media, they're more likely to buy from you, and they're more likely to recommend you to someone else!
#4 Run paid ad campaigns
The benefits of paid marketing are direct access to relevant audiences.
And generally speaking quicker results. Paid marketing gives you quick access to data too. The data you get from Google Analytics or Facebook Pixel can help you make your ads stronger and just help you make better marketing decisions in the future.
It might feel daunting, but it can be super effective in driving traffic and sales because paid search ads are in the top three most influential generators of website conversions!
Did you know?

You can create Google Shopping ads directly from Shopify. All you have to do is add the Google Channel app - easy!
#5 Use Shoppable Pins on Pinterest
About 80% of weekly Pinterest users say they found a brand or product on the platform; it's a smart place to focus your marketing efforts and help drive more traffic (and hopefully buyers!) to your store.
Just like with Instagram, you can now create Shoppable posts on Pinterest. Give it a try!
#6 Sponsor a Podcast
If you love podcasts as much as we do, you know they often offer their listeners discount codes and special offers.
You can do it too! This is a great way to reach an established audience, and because there are podcasts about literally everything, you're bound to find one to fit your budget.
Start by researching podcasts your audience already listens to and contacting the creators about a potential partnership.
#7 Don't forget about traditional marketing like tv, radio, or even snail mail
Do you have an inspiring business story that might interest a local TV network? Maybe it's time to reach out! You could also try a radio ad to spread the word about your products or even print some good ol' brochures!
Marketing is all about trying different things, so don't be afraid to think outside the box to find what works!
#8 Start a referral program
Use happy customers to bring more customers straight to your store! Referrals are effective because both existing and new customers benefit from a freebie or discount, and you can impress both.
People naturally trust friends and family members for referrals, so try offering deals like:
Refer X amount of friends, get X product free

Have X amount of friends purchase, get X discount/product free

Give $X, get $X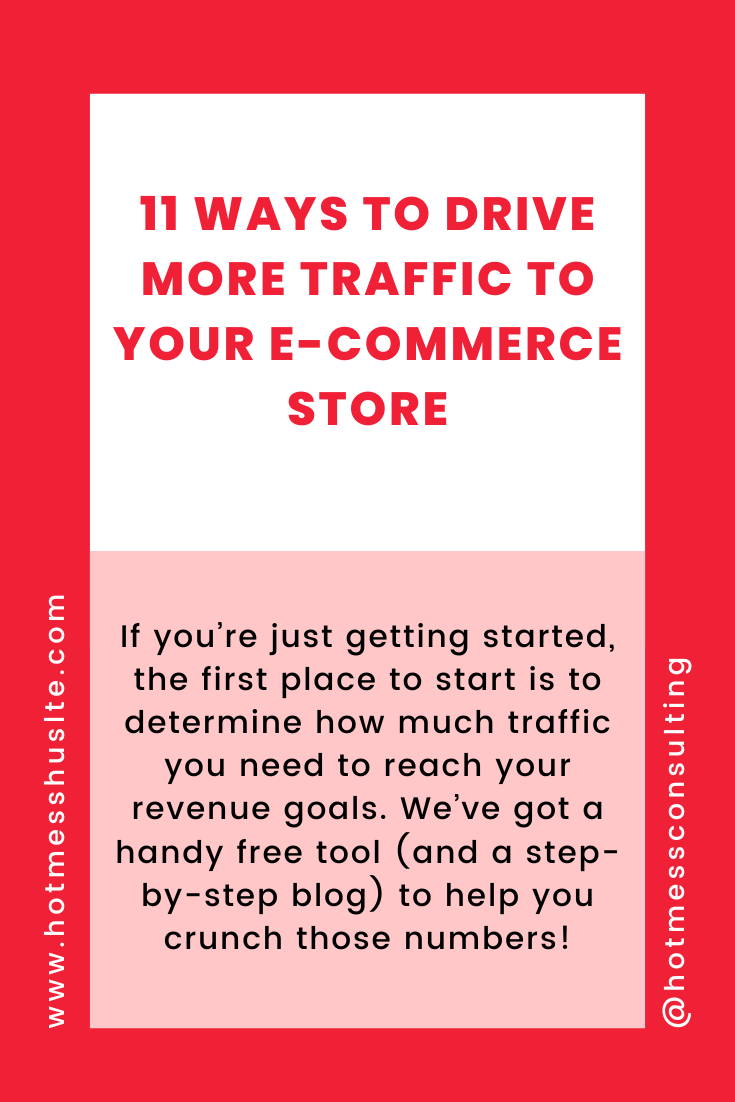 #9 Hire an influencer
Did someone say "unboxing video"??
Influencers already have what you are looking for - an audience. If you can work together with an influencer, you can tap into that audience, increase your own brand awareness and drive traffic to your store using a discount code. Another reason this works well is that we tend to trust recommendations from people we like and trust.
Instagram and Youtube influencers work well for e-commerce brands because they often seek ways to monetize their audience. Just make sure to do your research and find influencers with similar audiences to you.
#10 Start a text club
If used correctly, a text club attracts new customers and nurtures them until they are ready to buy from you. Make sure you include a special discount for joining and send regular short, punchy texts to your list to keep them coming back.
#11 Cross-promote with another business
We've already spoken about using customers to refer new customers, but there's another way to use this strategy too!
You can approach other businesses - who sell complementary products to your own - and create a commission program for every sale they send your way.
Reasons your traffic might be low:
😒 Poorly designed website (we can help you with this!)
😒 Bad UX (user experience)
😒 Website not optimized for mobile
😒 Erratic email strategy
😒 No obvious social media links
😒 Targeting the wrong demographic
😒 Poor quality photos on ads
😒 No call to action on ads
😒 Broken links
Remember: it takes time to build an audience and a loyal following and to find what marketing techniques work best for your people. So keep trying different things until you find your golden mix!
If you're not using email and text club marketing yet, we suggest you start there. 
And if you need help branding and optimizing your Shopify store for success - that's our specialty! Book a call with us, and let's chat about your dream website --->
---