How to Use Inventory Reporting to Drive Your Revenue Goals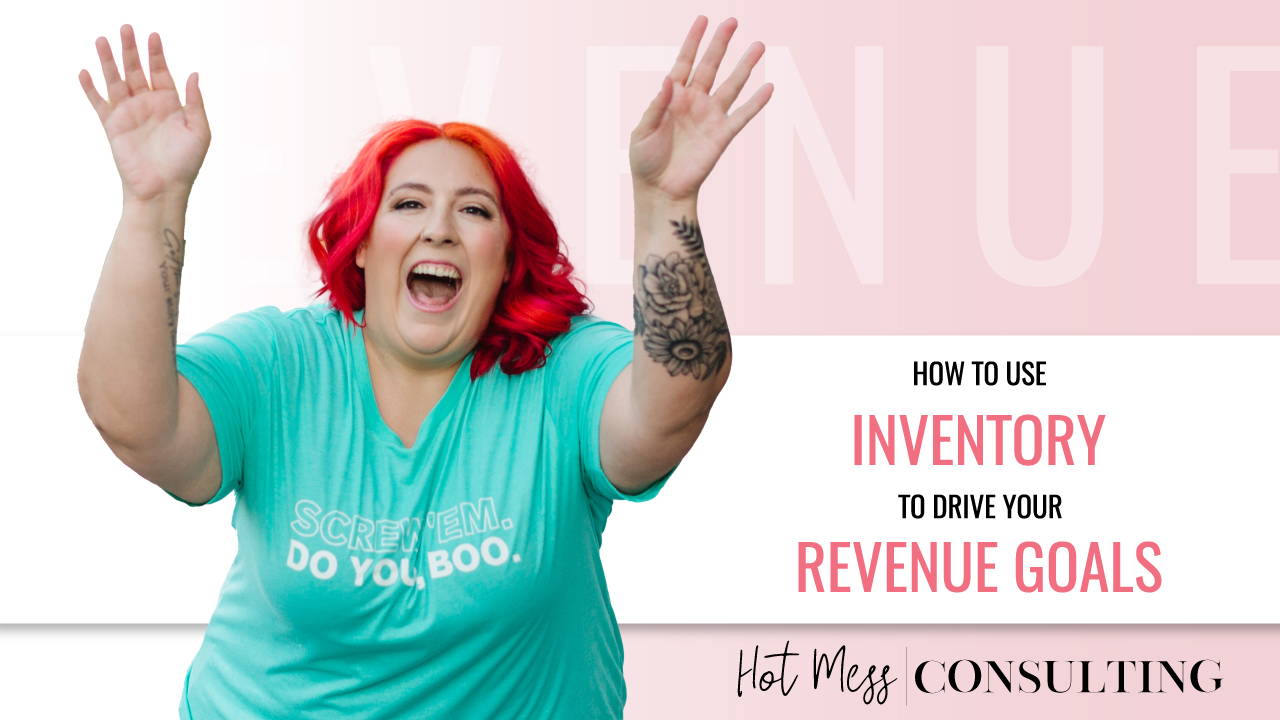 Welcome boutique owners and e-commerce brands!

So earlier this month, I took a deep dive with ya'll into Inventory Management. This week we're going further into the back office side of things...

I'm gonna talk about reporting and how to use it to really optimize your business and drive your revenue goals!  

VIDEO MORE YOUR JAM? WATCH IT HERE:
---
Now, I hear this a lot: "Shopify reporting is terrible!"
Some of you might agree, and that's totally okay, but personally, I don't find it that bad, and I'll explain why.
Now I know reporting isn't super sexy - but bear with me. It's pretty important to your business, and it's going to help your bottom line! But we know it can be a real headache for some of you. Today I'm going to run through the basics of inventory reporting - EXACTLY what you need to be doing and WHEN…. ladies - I'm looking at you! Sales tax is a head wreck. Amiright? 🙄
I'll also cover a couple of hacks and tools that can save you a bunch of time to focus on revenue-generating activities. And to round things off, I'll also share with you one of our fav Hot Mess Hot Tip apps - Delirious Profit.  
Okay. So in case you're like, wait hold up, what even is inventory reporting - let me just run through some of the basics to help you see the beautiful big picture that is e-commerce. Because if you've got a store selling products, then that IS your inventory, and you need to keep tabs on it.
So inventory reporting is:
🟡 A snapshot of your stock levels
🟡 How much product you have
🟡 A tool to tell you which products sell the fastest or slowest etc
And there are different kinds of inventory reporting:
🟣 Inventory on Hand: how much stock you have in your stores, and its value.
🟣 Low Stock reports monitor stock levels to avoid you running out of stock.
🟣 Product Performance Report: looks at which products are doing the best, i.e., selling the most or the quickest.
🟣 Shrink reports measure loss of inventory.
🟣 You can also breakdown your sales reports by product, category, selection, or brand.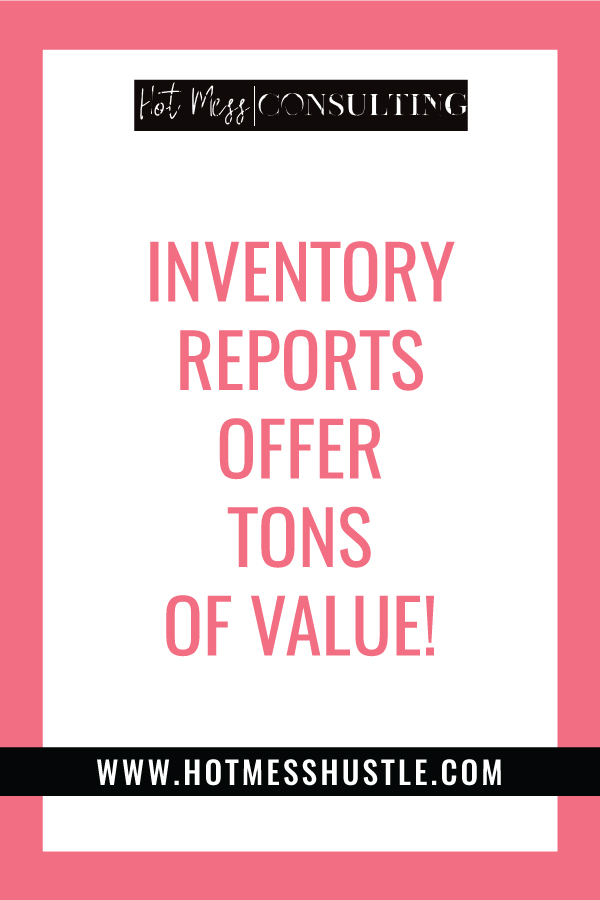 Why do you need to do inventory reporting?

Simple. They show you a ton of valuable info. It helps you manage your cash flow, your demand levels, all sorts of things. And keeping an eye on it means you avoid getting in a hot mess when it comes to doing your taxes.
A few key things to remember:

INTEGRATIONS: Your POS and your inventory management system need to be able to talk to each other.
KPIs: What numbers are you tracking? This will help you stay focused and looking at the right things and not go down any rabbit holes or crushing too much data.
SALES TAX: If you're doing this for your sales tax returns - then you need to have certain information from your inventory and sales - but always seek advice in your own state regarding sales tax.
How to do inventory reporting:

Well, let's get into it!
First, you build your list of products based on your POS or inventory management software and include the relevant info - how much stock you have on hand, where they are, any SKUs, price etc.

Create your timeframe. Are you looking at this over a month, a quarter, or a year? Are you comparing it to another period?

Run your reports, girl!
Some platforms and integrations can automatically run this for you, and some platforms are a bit more manual.
You can do it in Shopify, but it used to be pretty basic and it didn't really tell you a lot about what was going on.
But Shopify's new reporting can tell you:
🔵 Percent of inventory sold
🔵 Average inventory sold per day
🔵 Month-end inventory snapshot
🔵 Month-end inventory value
They only recently added the Month-end inventory value and this is super useful because previously, you couldn't get the inventory quantity and cost from Shopify to put into Quickbooks for the Inventory Balance (or whoever you do your accounting with). It all used to be a lot more manual, so this definitely makes it a lot easier.  
So that is nice!
And I'm not going to go into the accounting side too much here - but Webgility is a really nice app that automatically matches up your prices and quantity between your Shopify store, other selling platforms, and processes orders over in your accounting software, which makes it a whole lot easier to manage your inventory, order fulfillment and basically your whole business.  
Anything that lightens the load, ladies, you know I'm a fan of that!
---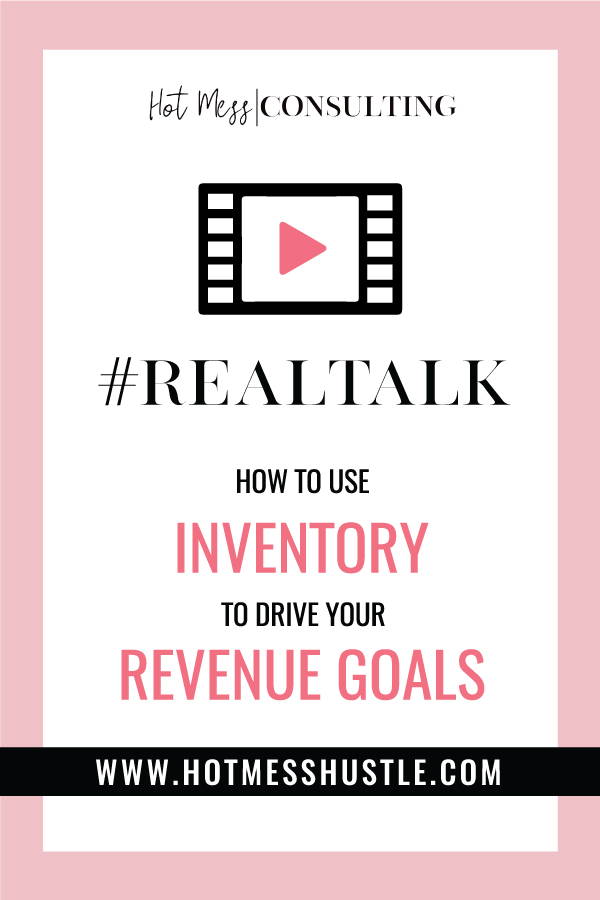 So one question I do get asked a lot is how OFTEN to do your inventory reporting.
Yep I'm looking at you, sales tax reporting!!
Actually, this kind of depends on how you run your biz and how you do your taxes.
We recommend eyeballing this weekly and looking at it properly monthly. You will drive yourself insane if you're doing this daily. But a weekly or monthly check-in is useful to help you monitor your inventory, make decisions, or measure or ramp up a campaign.
You might also want to do it after you've had a busy run - after a campaign or a specific season, like duh duh duh - Black Friday! Which, of course, is right around the corner.
So it's all very well doing the reporting, BUT how do you ACTUALLY use inventory reporting to drive business decisions and meet your revenue goals?
Well, boo. This brings me to a neat little tool that I developed for you - the Boutique Revenue Calculator!
I was finding that when I was talking to e-commerce biz owners, they just didn't know how to anticipate how much inventory to buy in, or how well their store was doing - like how much traffic they were getting - so they ended up with too much or too little stock. And that causes all sorts of issues, especially with your profitability.
So I created this super simple tool where you can just plug in the most important data on Shopify: your website traffic, and what your average conversion rate and average cart total has been, and …. Voila! This will show you your revenue.
You can also do it the other way round, where you add in your traffic, your conversion rates and cart total, and your GOAL - and that will tell you how much more effort you need to put into your marketing to reach it.
These are all just handy metrics for you to understand where your store is doing well and where it needs more effort, and that can help you manage your inventory and your inventory reporting.
---
So I mentioned at the beginning that a lot of people find Shopify reporting is terrible. If this is you - I have something for you! This is a handy little app that can certainly pick up the slack.
Delirious Profit is just $5 per month that you can add to Shopify to fill in some gaps when it comes to reporting. 
Delirious Profit takes the hassle out of calculating profits and margins, especially at End of Financial Year. So rather than staring at a spreadsheet for hours, you can focus on Income Producing Activities (IPA!).
You can add the cost price (COGS) to your variants, and Delirious Profit will automatically tell you the margin you made on that product – and provide a bird's eye view of profits over time. For example, if you run a boutique clothing store, the cost of goods sold (or COGS) is usually the wholesale price you paid for an item, plus any shipping and storage costs.
We get a lot of good feedback about Delirious Profit - it's easy to set up, intuitive to use, and gives you the exact data you need to run your business. You can use it to generate reports quickly to compare profits by vendors or see which months of the year are most profitable so you can tailor marketing strategies to match.
Definitely something to take the pain out of reporting!!
---
Overall, your goal should be to be on top of your reporting, because when it comes to the end of the year, this will save yourself SO MUCH time tax-wise. It can also help you set (and meet) your revenue goals.
Knowing where you are with inventory can help steer you toward your revenue goals much more smoothly.
Remember, it's also crucial to have goals for your reporting. You should be using that data in a meaningful way to improve your business; otherwise, you're just spinning your wheels!  
For more about inventory, do check out my last video on inventory management and integrations.
I'd love to know if this info has been useful for you, so please do hit us up in the comments - we'd love to hear from you.
If there's something specific you want to know more about, also let us know about that! As always, I'm here for you to help you keep it real and succeed!
Go all the eff in, girl! Till next time!
---