Retargeting Ads: How To Win Back Your Shopify Store Visitors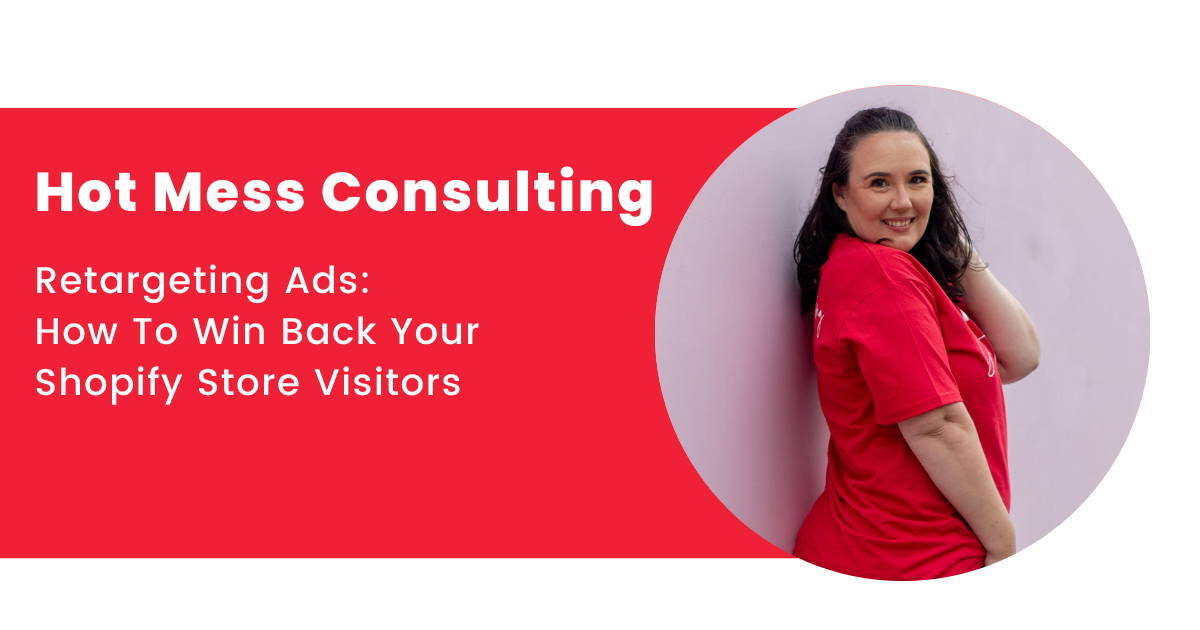 ---
It can be super frustrating to put so much effort into driving traffic to your store, only for them to bounce off and you miss out on the sale, right?

Well, that's what retargeting is here for. Retargeting ads are all about how you can win back your Shopify store visitors and make the most of that traffic!
I recommend to every store owner that they run retargeting ads because they are such a highly effective strategy.
Think about it like this: what do you think is easiest? Marketing to someone who knows you and has seen your store before, and even checked out your products? Or advertising to someone cold who has literally never heard of your store before?
Warm leads, right? This is why retargeting is so important. It's showing ads or anything else to visitors who have already been to your store or shown an interest in your product as a way to entice them back to your store, get them to get to know you and hopefully make a purchase.
Even if that purchase is in the future after some more trust has been built. Warm leads are just more likely to convert, and it's so much more cost effective than display ads because generating sales from a cold audience can get expensive since it takes time to build up that trust needed to get them to make that purchase.
VIDEO MORE YOUR JAM? WATCH IT HERE:
---
OK, so how does retargeting work exactly?
Retargeting is done with tracking pixels or cookies that follow the user around on your website, and after they leave your website.
By using the data from their online behavior, they then get shown relevant ads to their interests.
And these ads will be shown wherever they may be - Google, Instagram or Facebook for example.
Does retargeting work?
Absolutely.
It works because it builds touch points and touch points build trust. Experts believe you need anywhere between 5 and 20 touchpoints to make a sale.
Let's just look at the stats to be sure:
The click-through rate is 180% higher for retargeted users - meaning retargeting campaigns on average perform nearly 10 times better than a regular display ad campaign that is just shown to new audiences.

People who see retargeted ads are up to 70% more likely to convert.

Retargeting cart abandoners can increase conversion rate up to 26%

The average CTR for retargeting ads is 10X Higher than regular display ads
Retargeting is also perceived well by consumers:
30% of consumers have a "positive" or "very positive" opinion of retargeted ads

25% of consumers appreciate being reminded of products they've previously browsed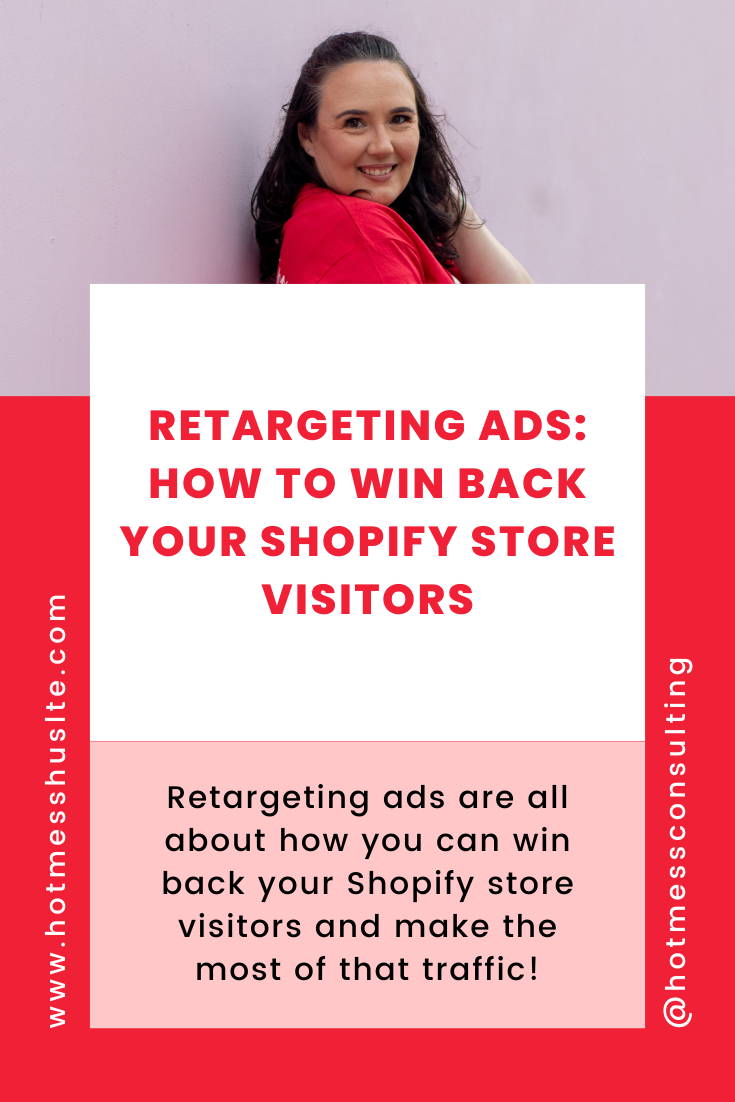 There are so many reasons that people will abandon a purchase - maybe they don't have their card on them at the time of browsing, maybe they are browsing in the middle of the night and they need to think over the purchase a bit more. So you want to make sure that if they were interested at all in buying from you that you're continuing to retarget to them, so that you aren't wasting your efforts driving that traffic in the first place.
So when you are retargeting, you are reminding them of their purchase decision so that when they are ready, they see you, and then the magic happens...
This is how retargeting can increase your click through rate, increase your conversions and just make a meaningful difference in the ROI for your marketing efforts altogether.
How To Do Retargeting

 
Setting up retargeting ads depends on the interaction itself, but it could be display ads on search engines like Google, or it could be social media advertising - anything from Pinterest and Snapchat. Almost every platform these days offers some form of paid advertising.
But you need to relate it back to where it's actually going to be meaningful - so where your audience saw you in the first place, and where they normally hang out.
Facebook is probably the most noteworthy, and if you are not running retargeting ads, you're definitely leaving money on the table. With Facebook, the integration between Facebook's pixel and your site allows you to retarget prospective customers from their very first interaction with your brand, all the way to website checkout. BUT the Facebook pixel must be integrated into your website to take advantage of Facebook retargeting and custom audiences. If you're on Shopify, you can use Shopify Marketing to guide you through setting up your Facebook pixel
Shopify Marketing will pull product images, titles, descriptions, and prices from your store and put together retargeting ads to reach your store visitors on Facebook and Instagram. This is one of the easiest and lowest-cost ways to launch your first retargeting campaign.
And in Shopify, remarketing is built in to some extent in terms of abandoned cart emails, but you can also run retargeting through your own email marketing platforms and email sequences. Consistent Cart is one app that will let you create a series of emails to try and entice the visitor back to make that purchase, and you can also do push notifications.
Key Things to Know About Retargeting
The whole point of retargeting is that you're staying visible so that you're always going to be at the top of mind for that customer. You don't want to miss this opportunity, especially if you're already working hard to drive traffic, whether that's organic or paid. So don't just leave it at that and not take advantage of continuing to stay top of mind for those that are actually interested in what you're you've been showing them.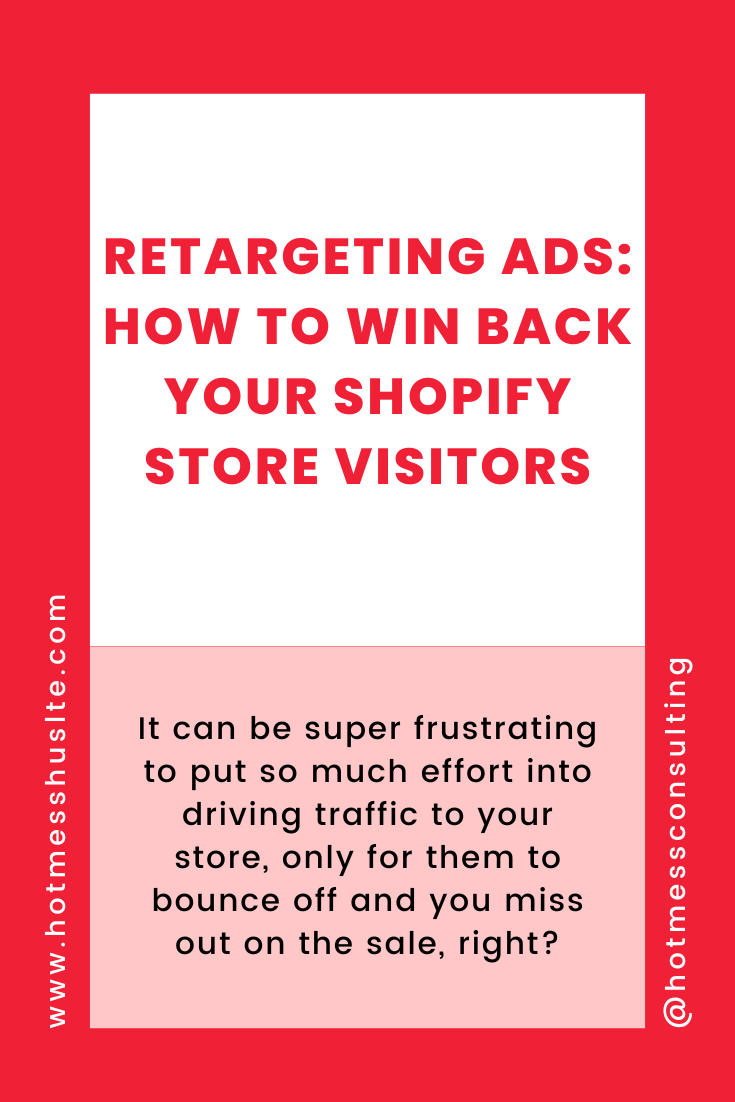 Also, you want to make sure that your processes are set up properly to take advantage. This is taking actions like:
collecting email addresses,

getting them to join your text club,

getting them to download your app when they get your site,

make sure your abandoned cart emails are set up.
The bottom line is that if you are not retargeting, you're leaving money on the table.
Ready to retarget?
To your success, boutique owners! 🍾
📢 Do you need help with your boutique website? We offer a free consultation to get you started! 🤩
---