7 Solid Ways To Boost Your Online Store Sales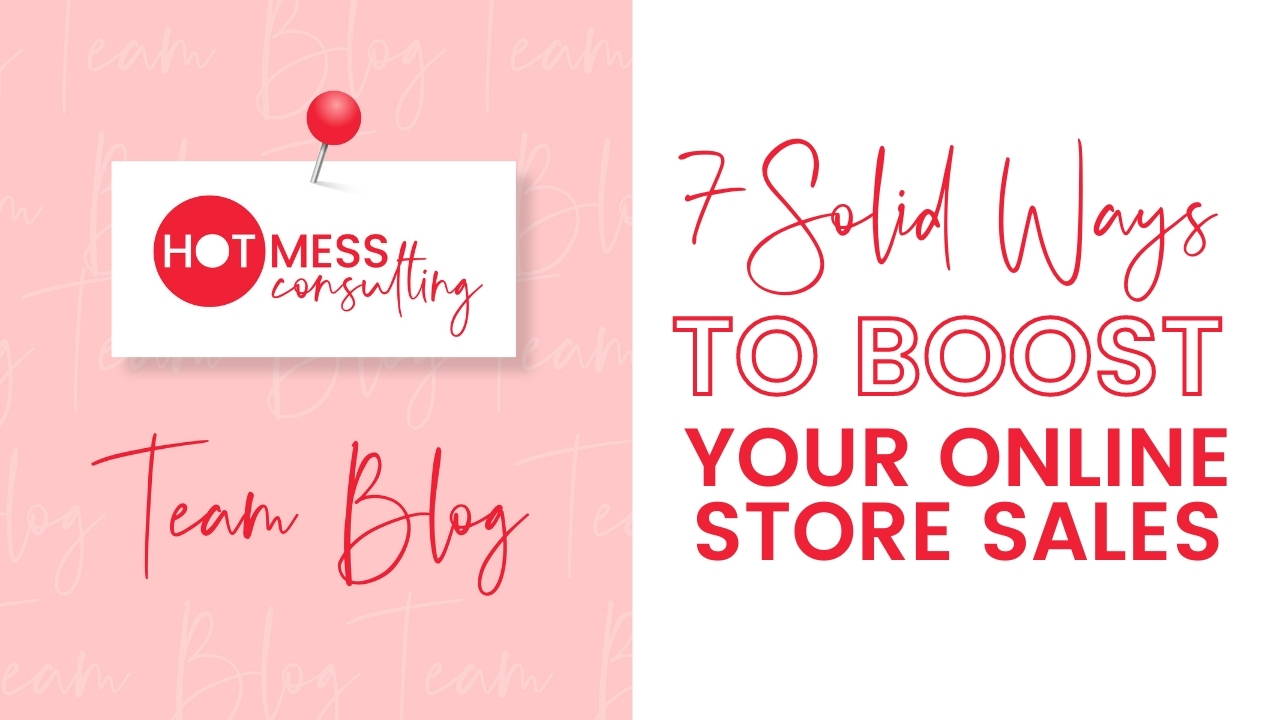 ---
You've spent hundreds of hours sourcing amazing products and building your online store - now all you need is to start making sales.
And it might just be easier than you think!
Today we're looking at tried and tested ways to get more customers to visit your store, enjoy the experience, and buy, buy, buy!
#1 Make your brand stand out
Before you can get anyone to buy from you, you first have to get their attention. That's why a strong branding strategy is crucial to the success of your online store.
Think about what makes your brand different and what your ideal customers are looking for. Get creative and be original; you want to do all you can to differentiate yourself from the competition.
✨TOP TIP✨ Your About Us page is a great place to showcase what makes your brand stand out from the rest and tell your story, so spend some time on it!
And don't sweat what to write - we've got a guide for ya!
Want the inside scoop? Here's what the experts rarely tell you about branding:
#2 Bring more customers to your store
It takes between 5 and 7 impressions for a customer to remember your brand, so you need to keep showing up and stay top of mind.
Visitors aren't just going to show up at your online store - you need to lead them there with your marketing. And you need a plan!
Free options include email (still one of the most effective forms of marketing) and social media. When it comes to social media - you don't need to be everywhere, so don't overwhelm yourself. Just focus on the platforms where your ideal customers hang out.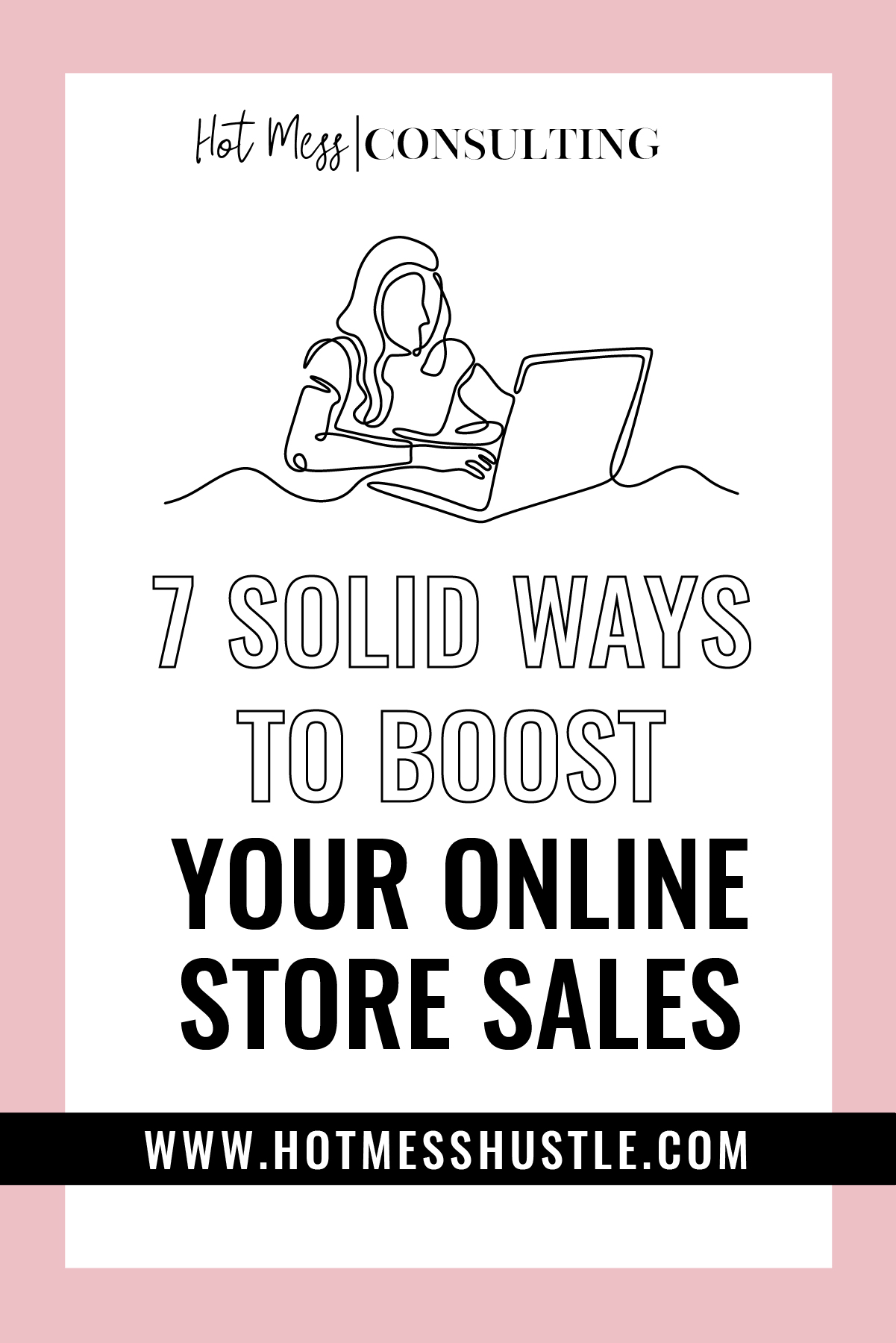 You might also want to consider using paid marketing options like ads and retargeting ads.
We recommend that every store owner run retargeting ads because they are such a highly effective strategy. Retargeting ads hone in on the visitors who have already been to your store or shown an interest in your product as a way to entice them back to your store and hopefully make a purchase.
#3 Optimize your website for sales
Now it's easy to go down the rabbit hole here because there are so many ways to optimize!
The most important thing is just to start with one improvement and take it from there. Don't get overwhelmed and try to do everything simultaneously (we see you!).
Here are a few quick ways to optimize your website:
Make sure your store loads in under 3 seconds

(and don't forget to test on mobile too)

Check your menus and navigation

- is it easy for customers to find what they are looking for?

Optimize your Product pages:

Use a copy template to keep things consistent and make sure every description provides all the information a customer might want to know. And of course - high-quality product images always!

Optimize your Check out pages:

Your aim here is to build trust. What assurances are you giving your customer that you're reliable and that they can trust you?

Test, test, and test again.

You need to make sure the user experience is as smooth and simple as possible.
Find more tips 👇
Add that FOMO into the mix! Countdown sales bars, limited-time offers, and apps like Sales Pop are great for adding urgency and ultimately making that sale!
Read more about other apps we LOVE: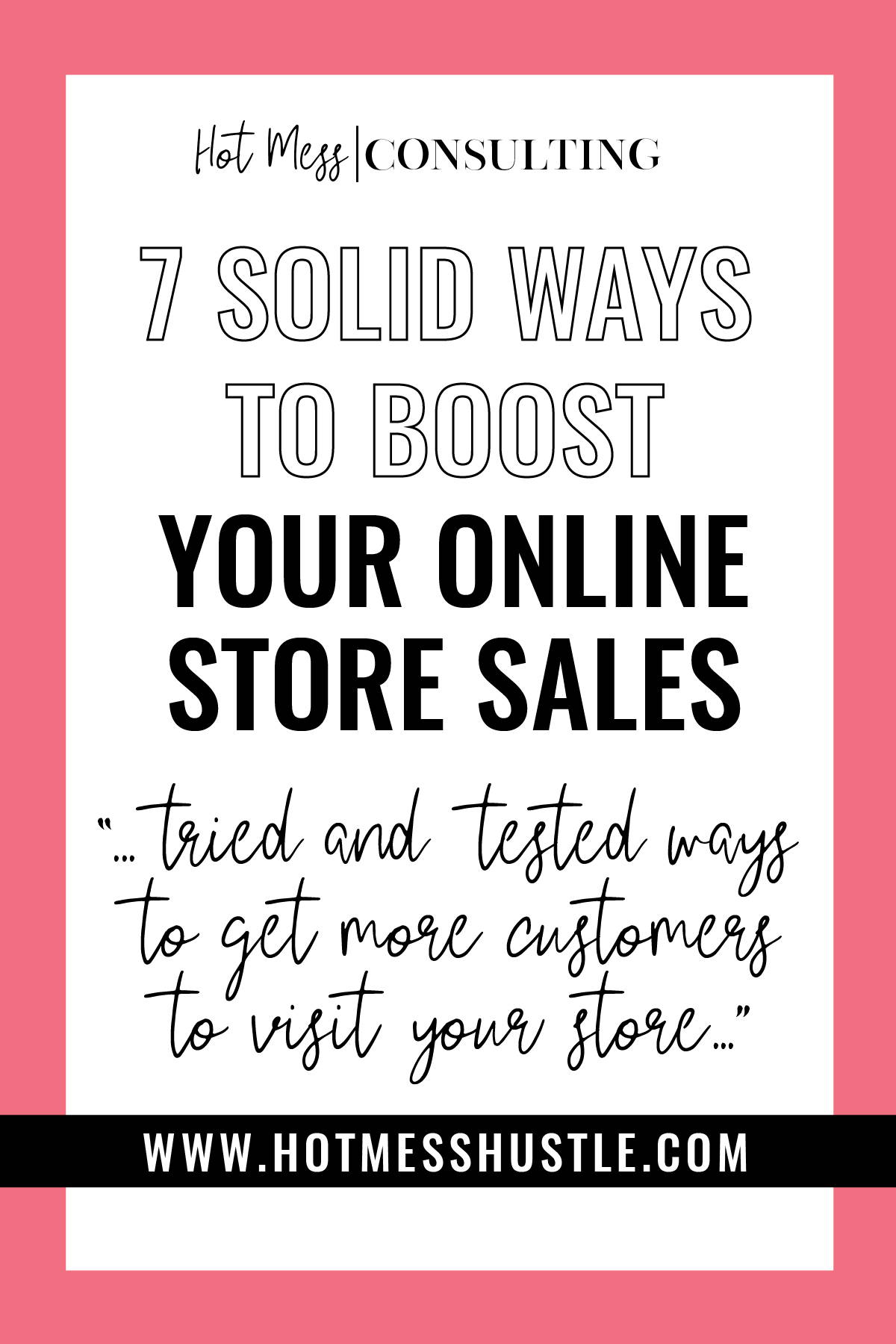 Your goal is to make it as easy as possible for someone to buy from your store, and offering payment plans is an ideal way to give your customers more options.
Sezzle is our favorite Payment Plan app - but basically, just make sure you offer payment plans!
Check out which payment apps we recommend to our website build clients:
#6 Optimize your Abandoned cart series
They've come, they've shopped, but they haven't checked out. So what are you going to do about it?
Make sure your Abandoned cart series is top-notch; that's what!
Your goal is to recapture that purchase. If you're using Shopify, they offer one abandoned cart email, which we recommend using. Then you need to use another provider like MailChimp or Klaviyo to turn it into an email sequence.
#7 Increase average cart total
The basic strategy here is to get the customers you already have to buy more than they had initially been shopping for or buy more expensive alternatives.
Again there are many strategies to increase ACT, but these are our top three:
1 Free shipping threshold
EXAMPLE: Free delivery for orders over $50
If your average cart total is LESS than $50, you can set your free shipping threshold at $50 so that customers need to have $50 in their cart to qualify for the free shipping. And we all love free shipping, right?
2 Make it EASY to pay 
We recommend always accepting regular credit cards via Shopify Payments and Paypal, ALWAYS. And as we mentioned before, payment plans like Sezzle are ideal for customers who can't afford to pay for everything in one go. 
3 Upsell or cross-sell
Upselling is offering a more expensive product ("Check out our best selling jacket that's only $10 more than the one in your cart?") while cross-selling is about pop-ups offering complementary products or a special deal ("How about these cute earrings to go with that dress you just ordered?")
You can check out apps like:
Pop Upsell (free)

Frequently Bought Together ($6.99/month)

Bold Upsell ($9.99/month)

Personalizer ($10/month
Learn more:
---
FINAL THOUGHTS
It works if you work it but you gotta work it! And by it we mean your business. You gotta keep showing up for your brand and your customers.  
Sales strategy isn't something you should be doing sporadically; you should be working with a plan. If you need help getting started, try our Boutique Strat Bundle. It's the ONLY strategy bundle created JUST for boutique owners so you can quit wasting time and skip straight to implementing (and making sales!)
---