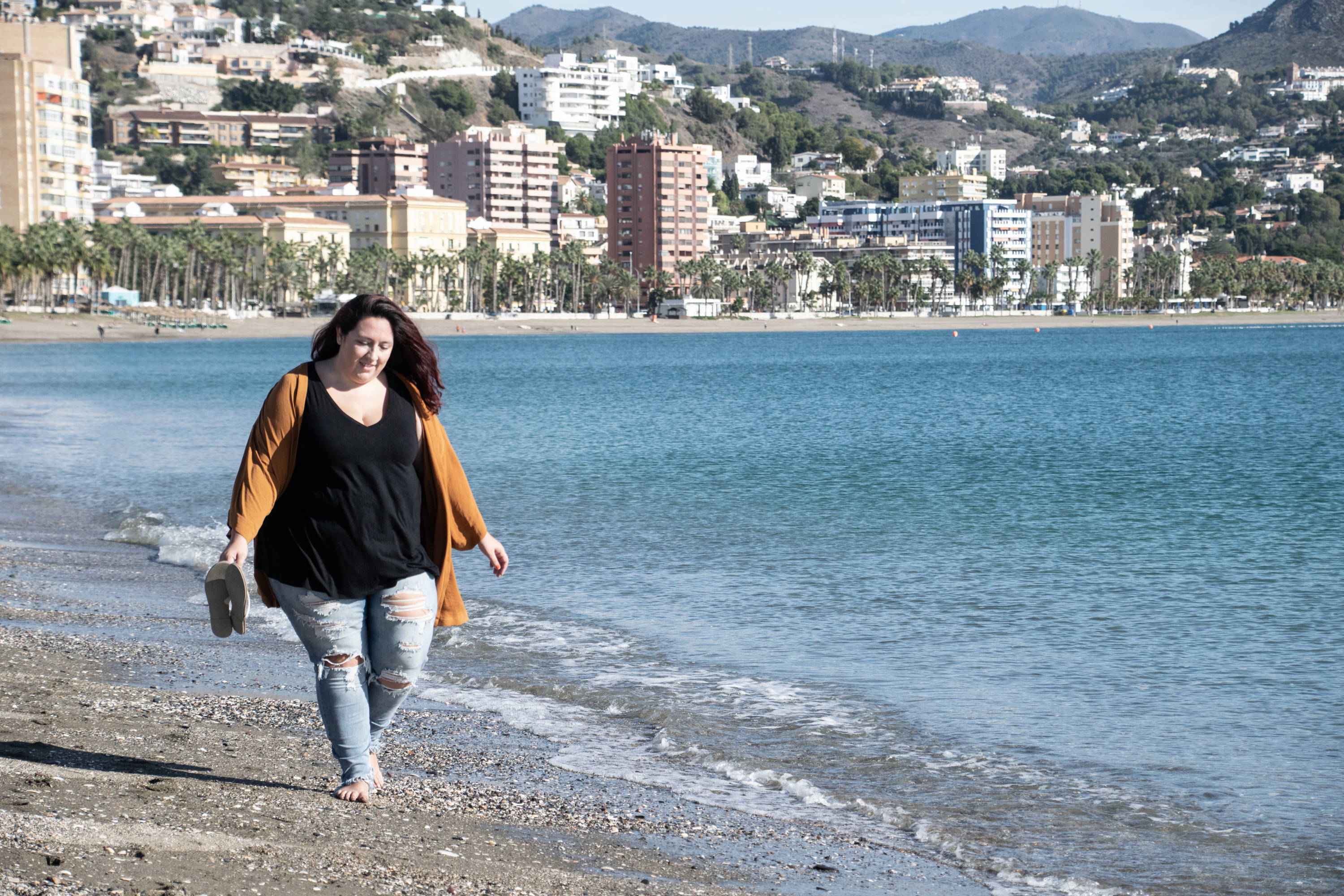 Paris was lovely, but dark, cold and just honestly not-feeding-my-soul. Spain was the sunshine, flip-flop + tank top weather, and ocean waves I'd been craving (for sure)!
Was everyday perfect? Just like Paris, still no! There were a few days that I didn't leave my cute little apartment (whether napping most of the day or just super-glued so hard to my computer working that I would forget to even eat and then all of the sudden it's like 9PM - yes I do still work, I'm not on a permanent vacation remember lol)!
But anyway, overall it was just what this girl needed to remind myself why I'm even on this trip. Which is to f*cking enjoy myself, for heavens sake lol!
To live. To grow. To learn. To be curious. To see other cultures.
To take it all in.
To be honest, I'm up in my head a LOT (surprise, surprise, haha). Thinking. Over thinking. Taking those thoughts, raking them over some hot coals, and then trying to over think them again. I find it very hard to just be. You know, to be present (in the moment). Smell the roses. Let that sh*t go. Anyway, not everyday in Spain alleviated my internal issues. But many days did! So let's recap some of the awesomeness! 
Malaga, Spain was a very cute little city.
I had a market right across the street from my apartment (yay, this made late night champagne runs super easy if nothing else haha), and in less than a 10 minute walk, I could be downtown with tons of little restaurants. I met a gal off Facebook who lived in a nearby City for some wine and a tapas crawl (we had octopus ya'll, and I didn't hate it either)! And what was crazy is she took me into what I thought was a little alley, except instead it opened up into what was the real downtown! Where I later found this BOMB taco joint. OMG. They literally had a bacon, prawn, cajun sauce street taco. And the name of it doesn't even do it justice. At all!
This is also where I got to their annual Christmas Light Show (for about a month, they do three ten-minute shows every night, which include a few songs with a choreographed light show). To say the area was PACKED for each show every night would be an understatement.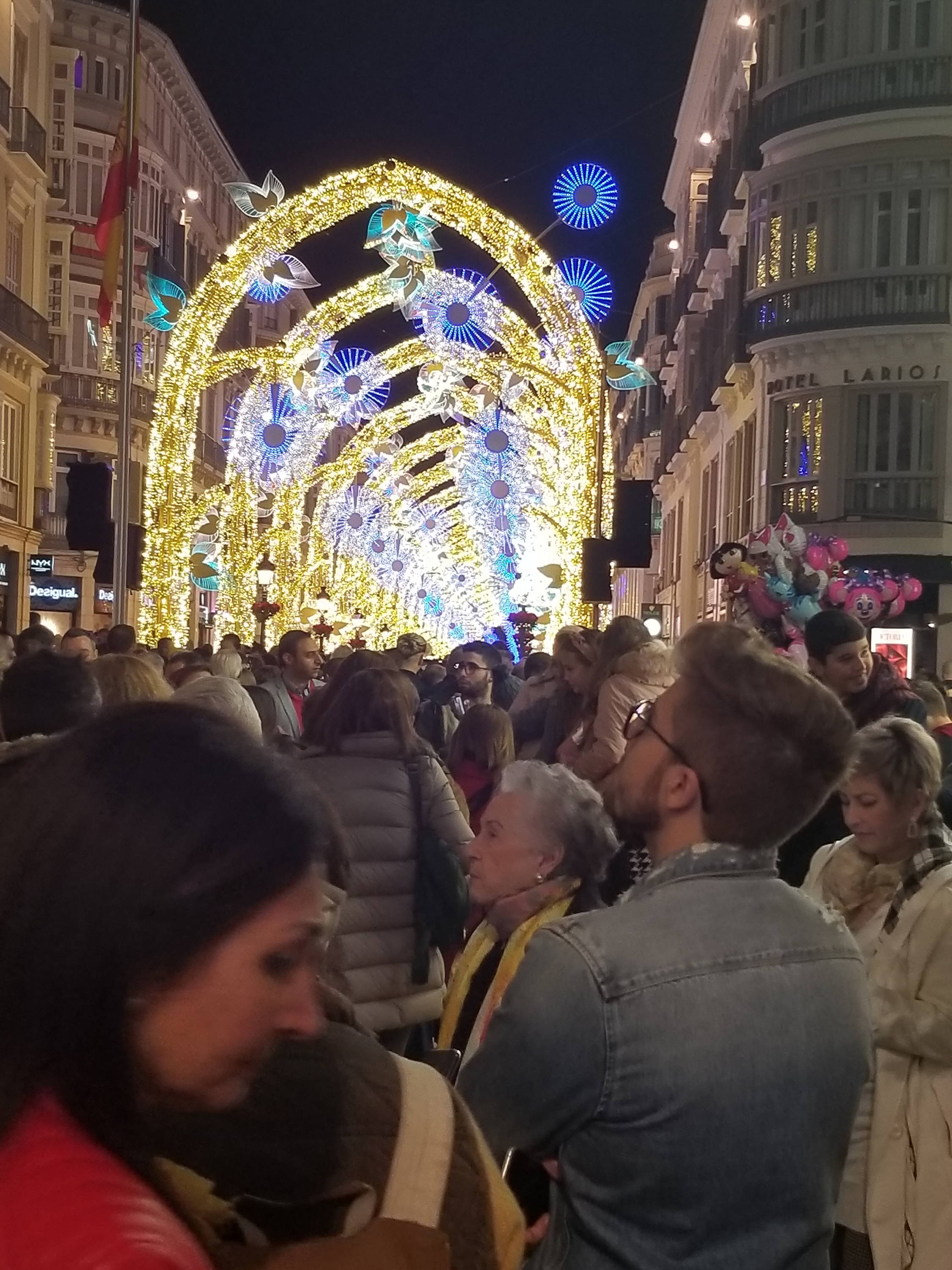 The harbor, and beach were not too much further from my apartment either! Where I definitely spent a good chunk of time as well. Including sitting for a bit on a bit of grass with a date off Tinder that did NOT go so well. He was actually a super nice guy, BUT the language barrier was rough (rougher in person than it had been through text on whatsapp)! AND, even more importantly he was trying to get way too deep (about feelings, and love and past relationships) on the first date than I was ready for. I was literally so uncomfortable, I cried ya'll (on the date). So yeah, we didn't see each other again lol. Thank goodness!
I went for a hike, the first hike I'd been on in YEARS.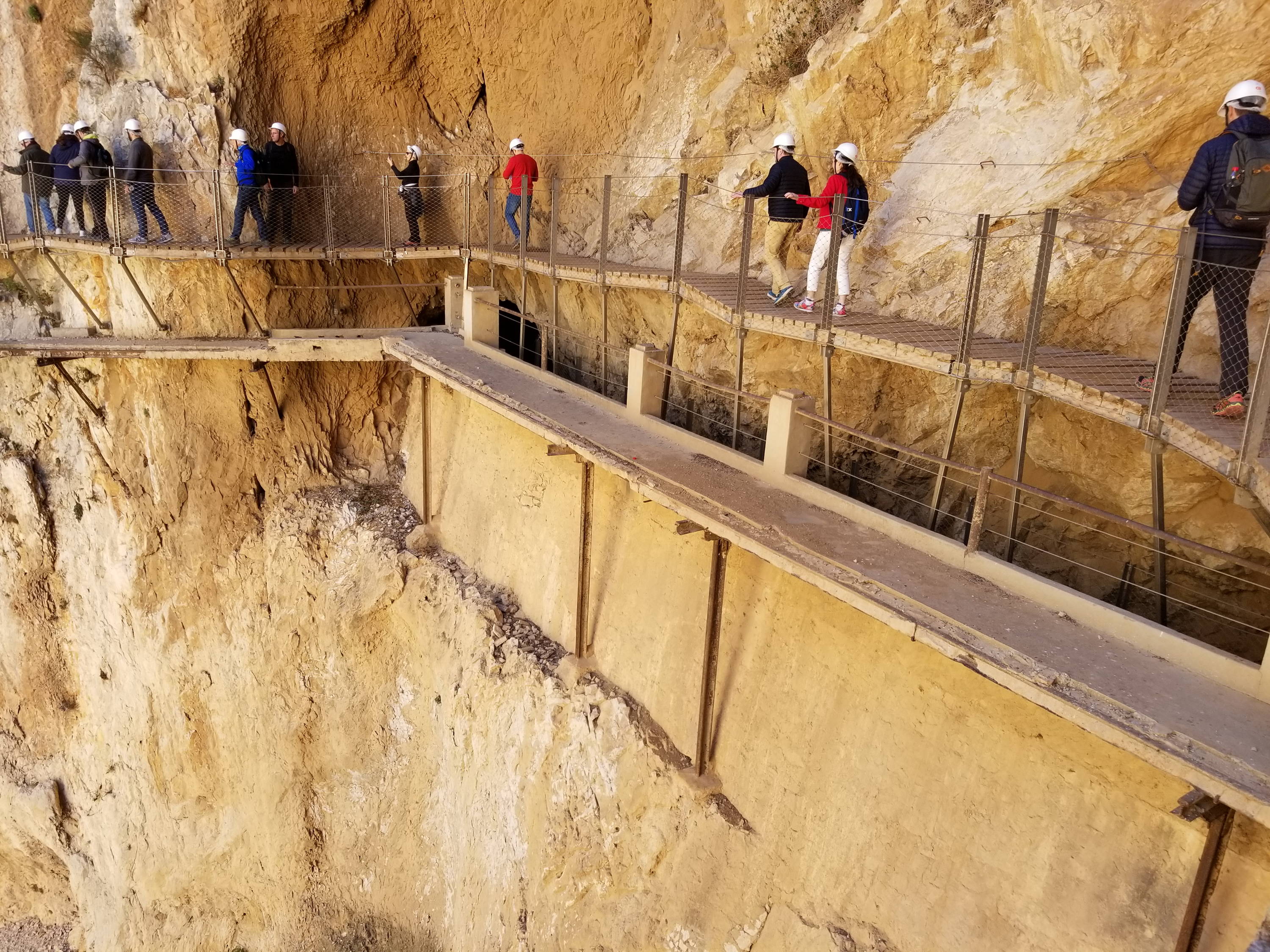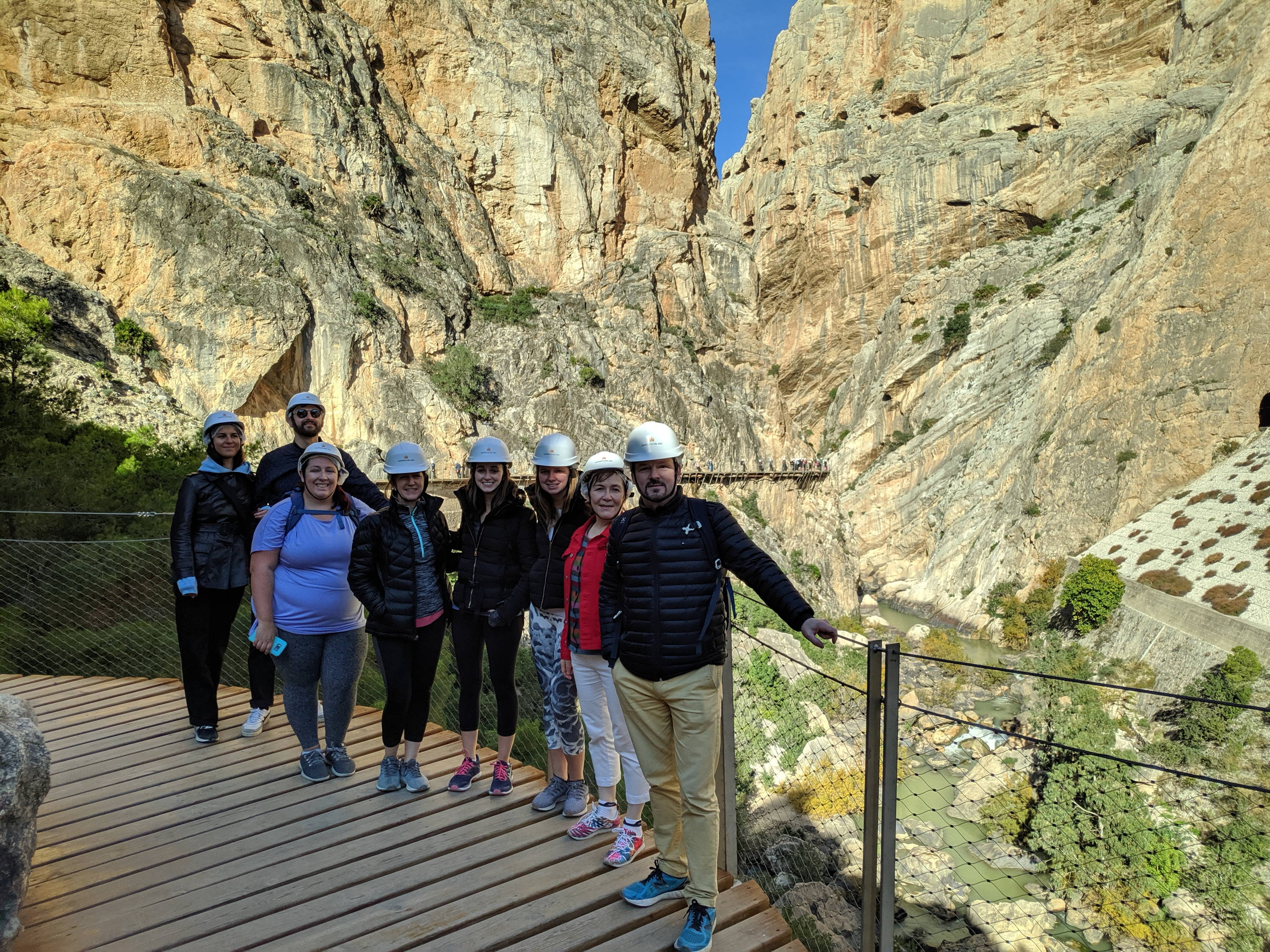 The truth is I'm horrendously out of shape (I mean horrendously)! And I'd been telling myself for a while now that I love hikes but I'm too out of shape right now. Well, I did it anyway. It was definitely hard near the end there, I was really truly ready for it to be over a good 20 minutes before we were officially done. BUT I made it!
Anyway, this was an awesome hike (Caminito Del Ray), due to the history behind it (and some good company too between the AirBnb guide and fellow hikers that were in our group). The history was..... that this path was actually a fairly crazy walkway that was originally built along the mountainside to provide workers in the area the ability to transport certain materials and stuff between two areas.
This path was originally built between 1901-1905 (it was finished in 1905)!!! It deteriorated quite badly over the years, yet even when it wasn't being used for workers anymore, folks would hike it anyway. The path was finally closed when there were a few fatalities, but the issue is that closed or not, folks would STTILL go in and hike it (and then post it on youtube too). So they finally redid it in 2015 so that it was safe for us all! I won't lie, the daredevil in me was so intrigued about the path before the renovation - definitely my kind of thing (but in this case, probably would have been too crazy of a stunt, even for me)!
My last grand adventure in Spain was a two-day excursion to a nearby city called Ronda. Super small, gorgeous city, with a bridge that was the stuff of dreams. Although I won't lie - this was basically two days of stuffing my face at new restaurants (which I'm definitely not gonna complain about).
The views here were gorgeous though, and I also got curious and found my way to the hike down the valley (which was fairly easy to walk down of course, but on the way up, whew, I definitely sat for a few minutes every 5-10 minutes until I was finally back up lol)!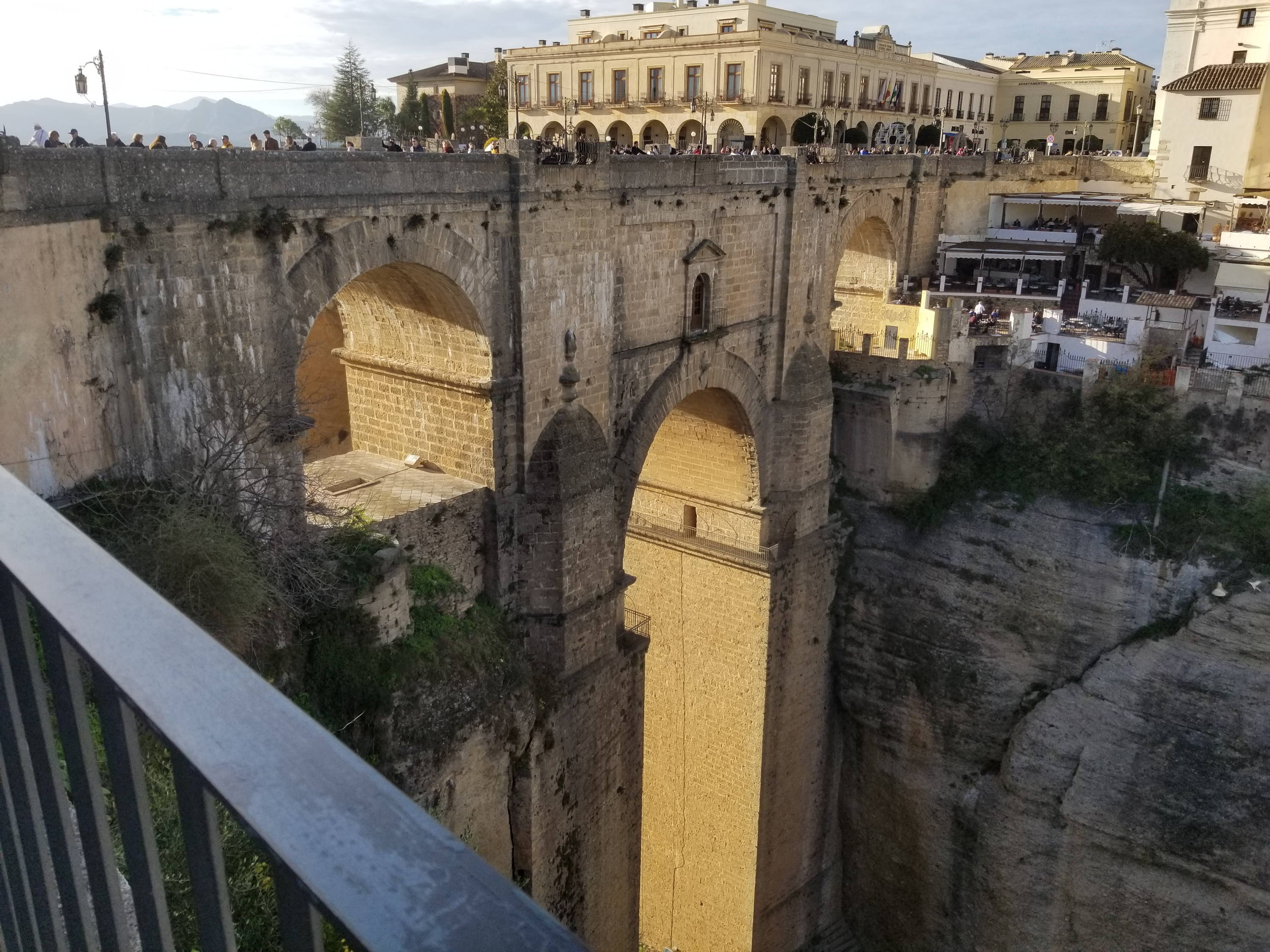 SOOOOOO that's it, that was Spain! I'm so glad I listened to my heart (or gut maybe) and changed up my original plans! And I can't wait to share what's next too (AFRICA)!!!

Anywho - thanks for following along!!

---