Conversion Rate Q&A Part 2 - How to optimize conversion rates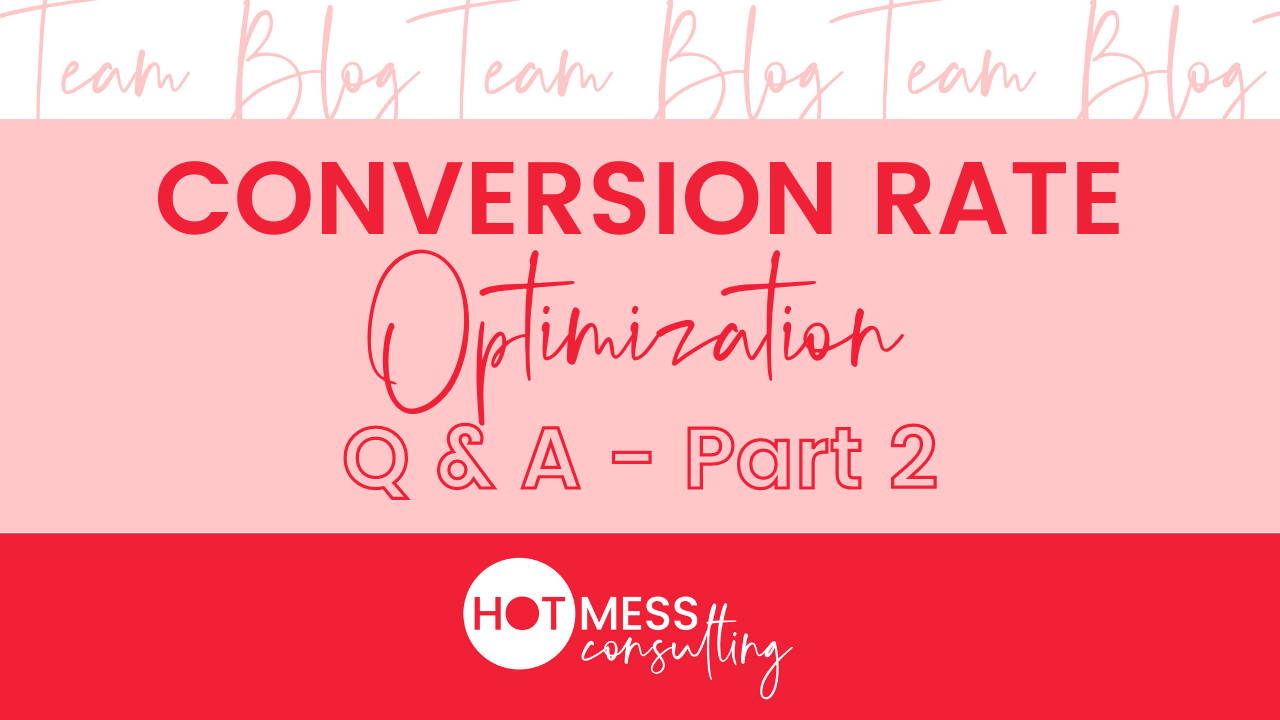 Welcome to our series on Conversion Rate Optimization! In this Q&A interview series, our very own Hot Mess Head Dreamer, Angela Froschl, and Project Manager Karla Bouwer answer top questions we get asked by store owners about conversion rate optimization.

In this second part, we are looking more specifically at how to optimize conversion rates, and what lowers the conversion rate in Shopify. We will also talk about optimizing for mobile which is super important, so whatever you do, don't skip this part!
PS If you need a refresher on what conversion rates are, make sure you check out Part 1!
But in the meantime, let's look at what can lower your conversion rate, and how you can optimize it.
So let's dive in…
❓What can lower the conversion rate in Shopify?
❓ How can you improve or optimize your Conversion Rate?
❓ How important is optimizing for mobile?
❓ How to optimize for mobile?
Pssst…… If video is more your style, check out the Q&As on our YouTube channel!🍿
---
What lowers conversion rates in Shopify?
Visitors spend an average of only 15 seconds on your site before leaving (which is actually also known as bouncing - which is what gives you the Bounce Rate). The essence of optimization is about how to give your visitors what they need as quickly as possible. If a visitor has to jump through hoops just to find out more information about your products or services, then they are likely not going to revisit your page - let alone purchase anything! And this is why optimizing your site to improve conversion rates is so key.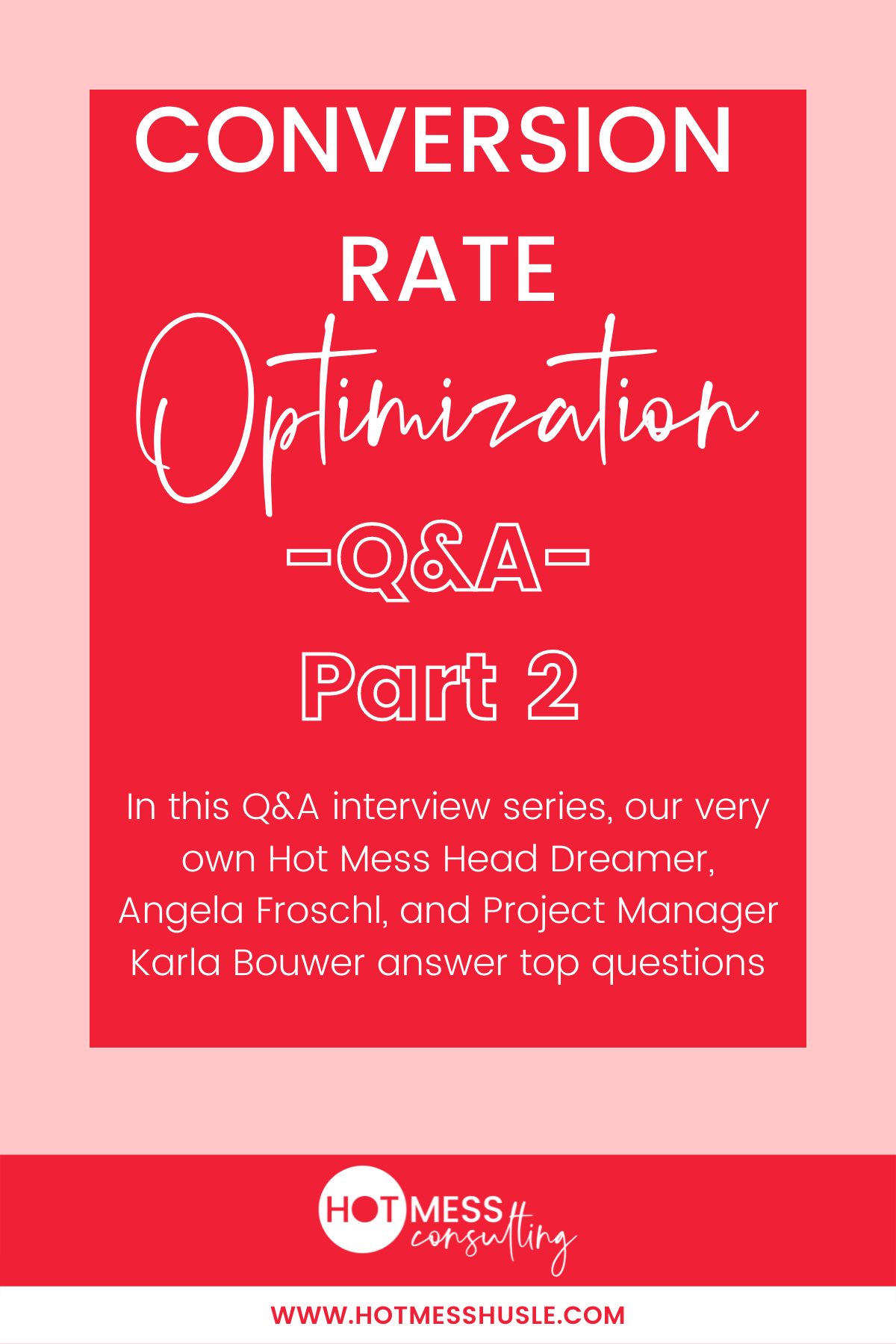 There are some common things that can lower the conversion on any particular page:
❌ Poor product photos
❌ Site doesn't look trustworthy
❌ Visitors can't find what they are looking for
❌ There are too many hoops to jump through
Anything that causes friction in your customer journey is going to put your customer off, lowering your conversion rate, or even causing them to bounce.
So let's look at the juiciest topic of all….
How can you improve or optimize your Conversion Rate?
In order to optimize your conversion rate, you really want to get into the mindset of your customer. What makes them tick? What are they looking for? What do they HATE?
Bearing this in mind when designing your site can help you give your customers the experience they are looking for - or even better, they don't even know they are looking for, but when they see it on your site they will LOVE it!

It is helpful to keep in mind your conversion goal. What do you want your visitor to do? Make sure you can always answer this, because if it's not clear or your customer gets confused, they are more likely to leave than to convert!
So here are our top tips for optimizing for Conversions:
Keep your checkout buttons above the fold
Only surface key pieces of content above fold such as featured products or your call-to-action; and consider giving up some of the screen real estate to get rid of elements that draw users' attention away from it.
Make sure your menu is well organized and easy to navigate
You need to make sure it is easy for customers to navigate your website. This applies all the way through to checkout - the whole journey or process must be simple and neat. No distractions, no upselling, nothing else to get in the way of completing a purchase. Friction points get introduced when there are too many steps to follow, and it is confusing to navigate.
Ensure that your Search Bar is visible and that you have predictive search enabled
This will make it much easier for visitors to type into the search bar and quickly find products they are searching for. If they enjoy the experience, they are more likely to convert.  
Keep size charts on the product page
Size chart tells the customer what metrics you use to size the products, and helps them make an informed decision without having to leave the page. This makes it easier for both of you - it increases customer satisfaction and it reduces your returns rate.
Use breadcrumb navigation
Breadcrumbs are recommended for ecommerce websites which tend to have a wide variety of products grouped into categories. Breadcrumbs are visual menu or navigational aids that tell visitors which part of the site they are on, making it easier to move around and find what they are looking for without getting lost or buried deep in your website. Having a good structure enhances the customer experience and contributes to a higher conversion rate.
Offer payment plans
Studies have shown that 74.6% of customers admit that payment is a significant part of the shopping experience, with more than half saying they had abandoned a cart because of a lack of acceptable payment method. Make sure you offer payment plans from legitimate providers because one thing is for sure - not having the right payment methods can negatively impact your conversion rate.
Send cart reminder emails
If your customer does abandon their cart before completing their purchase, sending cart reminder emails can generate up to an 18% conversion rate - the rate is higher in the first hour after the cart abandonment, and reduces over time.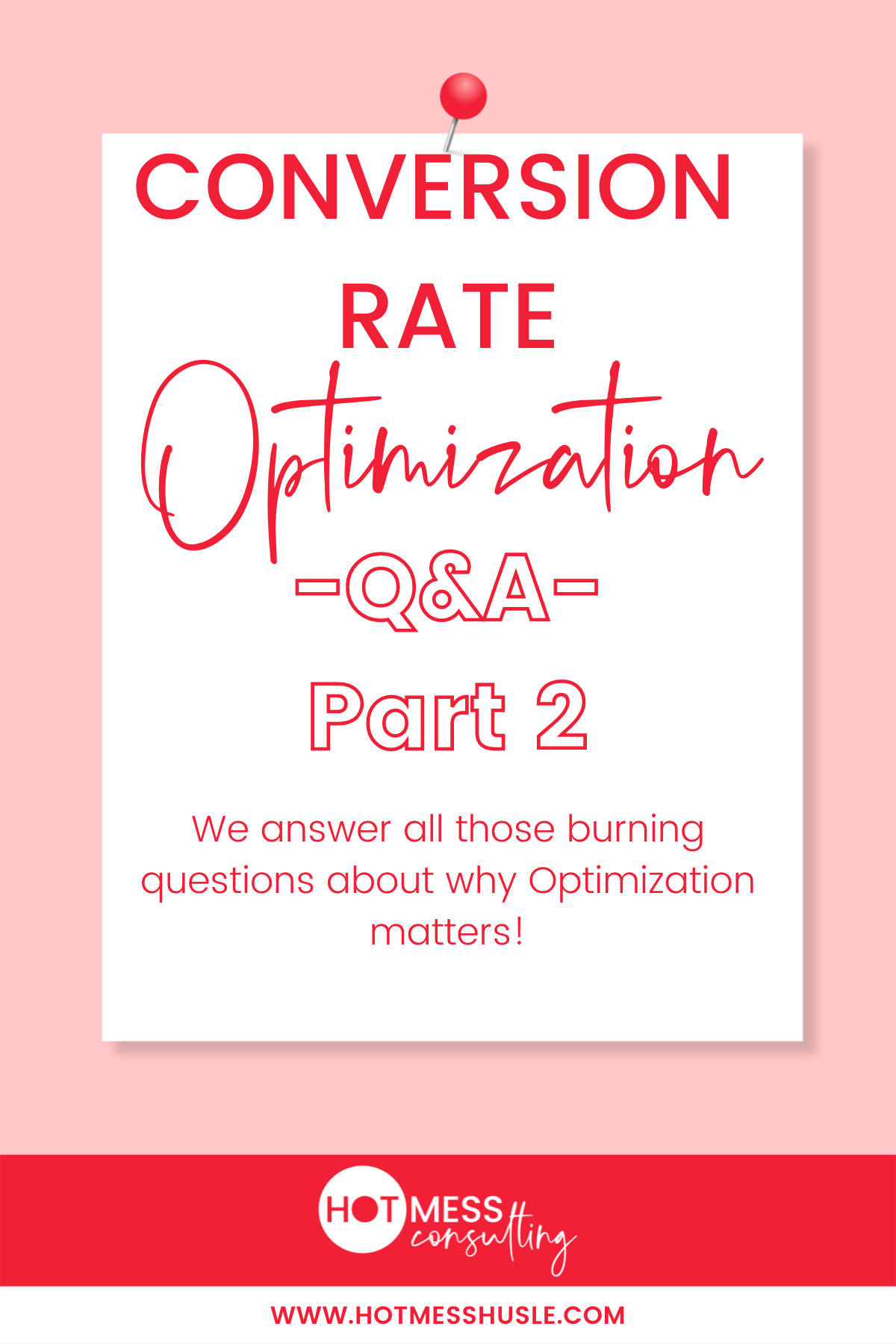 Display shipping & returns information clearly
Clear shipping and returns policies helps the customer to have trust and confidence in your brand. It lets them know what to expect, enhancing the customer experience and helping to improve conversion rates.
Keep links + distractions to a minimum - customer journey should be navigated in as few clicks as possible
Having too many website elements can draw attention away from the product or call-to-action, but these are particularly potent: ads, links to other pages on your site (particularly product category pages), homepage banner images, navigation menus with lots of options (or poor labeling), discounts and promotion messages - just to name a few!
Keep your Socials links in the footer
For the same reason as above, distractions will take people off your page, and you want to keep that to a minimum. Of course, there are exceptions to these rules, and it totally depends on what your audience wants and where they spend their money with you. Apps can be an exception too!
---
These are our top tips, but it goes without saying that your pages and calls-to-action should be clear and attractive at first glance while providing value - and even entertainment. Be memorable, not boring. Use relevant, real-time, and high quality content as often in text, images and video as possible.
Also bear in mind site speed, because when it comes to page speed, the loading time for your website plays a major role in whether customers will stick around once they find your site. In fact 84% of online shoppers expect sites to load as quickly or faster than their mobile app.
A simple test is to take a step back and have someone visit your store for the first time, then write down everything they read, liked, clicked on (or didn't click on), questions they asked, what could be clearer - and so on. We like to say ask your Grandma! Can she navigate your store? Ask her and find out, but really any opinion is valid!
And this doesn't just apply for websites as seen on a desktop or laptop. This also applies to mobiles. It seems obvious, but again, this is a step that lots of store owners forget to check!
How important is optimizing for mobile?
Ok, let's not beat about the bush with this. Optimizing for mobile is very important! More and more people are buying on their phones every day. So optimizing for mobile is pretty important if we want our stores to convert!  
These are our top tips for optimizing for mobile:
Always toggle to Mobile to check both views when designing
Make sure everything works on smaller screens… It sounds obvious but you'd be surprised how many people forget to check it! This means making sure that all your images still look good on smaller devices. Having big and small versions of everything, including images, can be a huge help in getting things to work the way you want across mobile phones and tablets! It's also important for keeping page sizes down so people don't have to wait long before they can check out or browse their favorite products.
Don't have too much text or announcements taking up valuable screen space  
On mobile, this is something to really watch out for because if you have a lot of text in your header or banners, this can take up an entire screen. Always check!
Always preview and test your site on your mobile!
But how do you do this? Well, when you're in Design mode in Shopify, pull out your phone and check it on your screen as you go! It's also a great tip to do from time to time outside of designing just to make sure nothing has gone awry with your site without you knowing.
So now that we have looked at Mobile Optimization in depth, is there anything else you can do to improve or optimize your Conversion Rate?
Of course there is!
There is still so much more you can do to optimize your website in order to increase the chances of a conversion. But it's best to make one change at a time so that you can be sure which action moved the needle in your conversions, for better or worse.
The last thing we would like to emphasize is that a lot of people spend a lot time optimizing their Home Pages, but truthfully, the Home Page is rarely the most visited page. You can stay on top of this by checking your top pages in Analytics. Whatever you do, never delete or lose traction on your top pages!
So that wraps up this article on what you can do to optimize conversion rates, and the things you want to avoid because they lower your conversion rate. We hope this blog will have you convinced that optimizing your Shopify store for conversions is a worthwhile (ahem, essential) process - and an easy one when you know the steps involved.
If you found this useful, do keep an eye out for Part 3 in our Conversion Rate Optimization series - landing soon!
Cheers to your Shopify success!
💋💋💋
---