Our Top 5 Shopify Themes and why we love them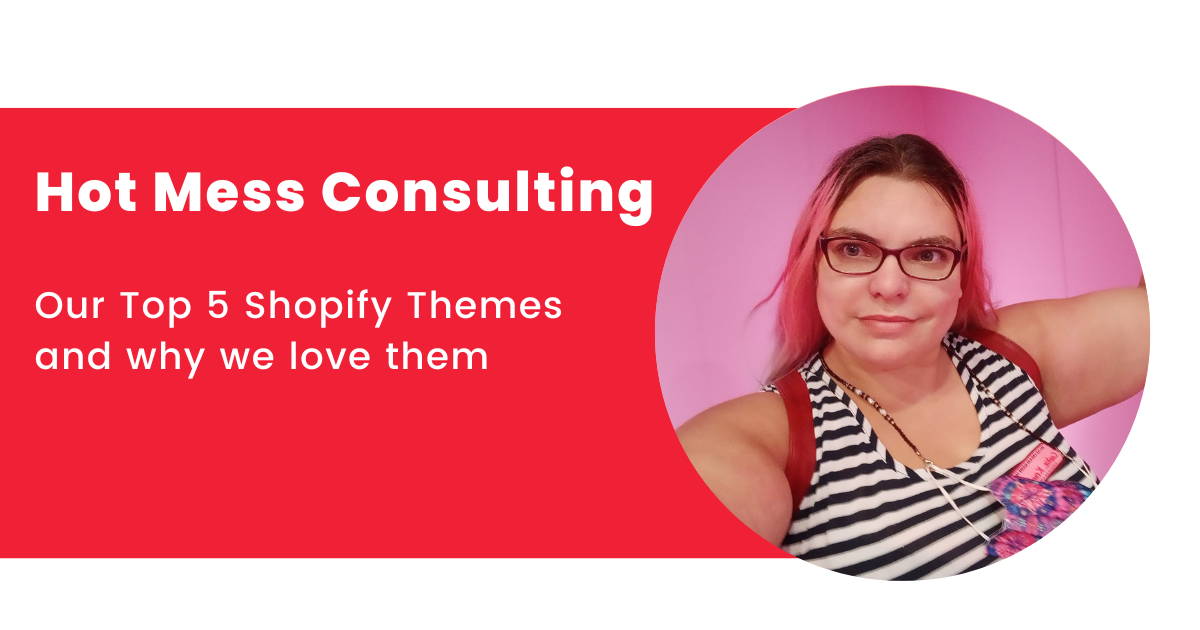 Here's the deal - if you want your e-commerce store to succeed, it has to give your customers what they're looking for. Your website has to work.
And how do you do that?

In this post we're looking at our TOP 5 Shopify themes and why we love them. This is hopefully useful if you're considering starting a store, but also if you're at a point in your business where you're ready to level up: you're bringing in a decent amount of traffic and revenue already and you're looking to increase your conversion rate, then you want to be a little bit more strategic when you're picking your theme, because there is a lot to it!
VIDEO MORE YOUR JAM? WATCH IT HERE:
---
👍Picking a Theme - Top Tips

So whether you're just getting started with Shopify or already know your way around, first let's look at some top tips for picking a theme.  
#1 look beyond the surface
Look beyond the images and branding on the demo site. When you're pulling up these demo sites, they all look lovely, but you have to look past it - because those images and graphics and even the fonts don't come with the theme.
And they also don't properly represent the ins and outs of that theme, because those same images and graphics can be used on anything. You need to be able to visualize your branding, not get caught up on the demo site.
#2 Know Your Site Layout
What you need to really assess in a theme is the

layout

. When you download the theme, there are no images, no text, no fonts - it's completely empty. What you're seeing in the demo site are just presets so you need to imagine this theme with your own branding and your own site layout.
So dig into the demo and go over the features and all the little nooks and crannies. You can start with the layout of the homepage, the aesthetic of header and footer, menu options, logo placement, sidebar options, and any built in pop-ups.

Check out the product pages and collections page, and any other special features that are built in. Is there a carousel? How do the buttons and icons look, how the cart looks, storefront widget, how the search bar looks and functions. Ideally, make a checklist of the KEY FEATURES that you need for your site to serve your customers.

Remember that the demo page may or may not be utilising all the features of the theme, but the message here is just look at every nook and cranny, and know what you need your site to be able to do.
Not sure? Hit us up for theme recommendations!
#3 Check on Mobile
ALWAYS check how the theme looks on mobile.
There is often a button to view on mobile. Make sure that you love how it looks and feels on mobile, as well as desktop, and remember that on mobile is even more important - this is how most people will be looking at your store.
#4 Finding the Perfect Theme
Sketch out your unicorn theme🦄 with all the features that you could possibly want, and then use that list to compare it back to the themes when you're looking at the demos again.
Of course, you're not going to find the perfect theme for you, but you want to find a theme that ticks as many boxes as possible. And then you code the rest, or bring in a coding developer (which, PS, is also part of our design services!)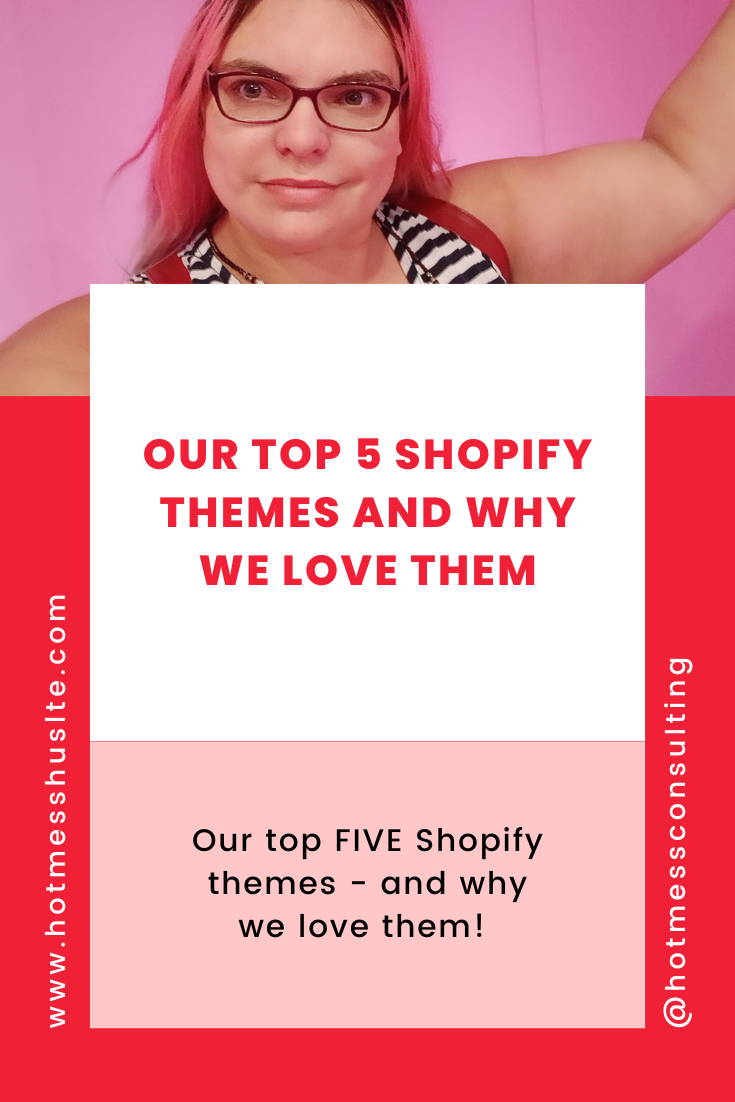 #5 Free or Paid?
OK. Disclaimer: the only freemium theme that we actually recommend is called Minimal, by Shopify. It's really the only one that our team works with, because the other ones have customization quirks that we just don't love. So if you are on a budget, Minimal will work.

If you can, go for a paid theme, and we strongly recommend EITHER Shopify paid themes, because all of these are going to be vetted and Shopify have fairly strict quality standards! OR - the themes that I personally love - Outofthesandbox.com. These themes are solid and well built and that is why I recommend them.

Other themes tend to cause issues in terms of SEO, site speed, or coding, or even just a lack of support. So I say AVOID. Stick with Shopify or Out Of The Sandbox and you'll be golden.
What's interesting is that almost all agencies that I've ever come across - even the super high end ones charging $10,000 to $20,000 for a website design - they are STILL starting with a theme. It just doesn't make sense to 100% custom code a theme because the themes out there are solid - they are that good. So then it's just a case of some custom coding to make the cherry on top. Remember this!
So that's the basics covered, now let's look at our TOP 5 THEMES!
Turbo
Now, I am biassed, but Turbo is the best. LOL! But seriously, it's the one that the most advanced agencies start with. This is what I use for Hot Mess and Thongin' It Boutique.
Turbo is built for performance and it's super fast. And it looks so damn good. I did a review a while back comparing Turbo and Responsive, so you can also check that out.
But here's the main reasons why I love Turbo (a lot):
The announcement bar is amazing.

You can customize it so many ways.

You can do things like show recently viewed items in a row on collection pages or product pages which is great for conversion rates.

You can add a fun little background image to the footer that shows up on every page to try to capture email addresses.

The search bar is really intuitive.

It's easy to add color swatches.

The footer layout is good

There are loads of options with the menus, mega menu and secondary menu.

And the hero images, parallax scrolling and full width banners look gorgeous.

The only real drawback is the cost - at $350 it is the most expensive theme we review, BUT - I definitely think it's worth it!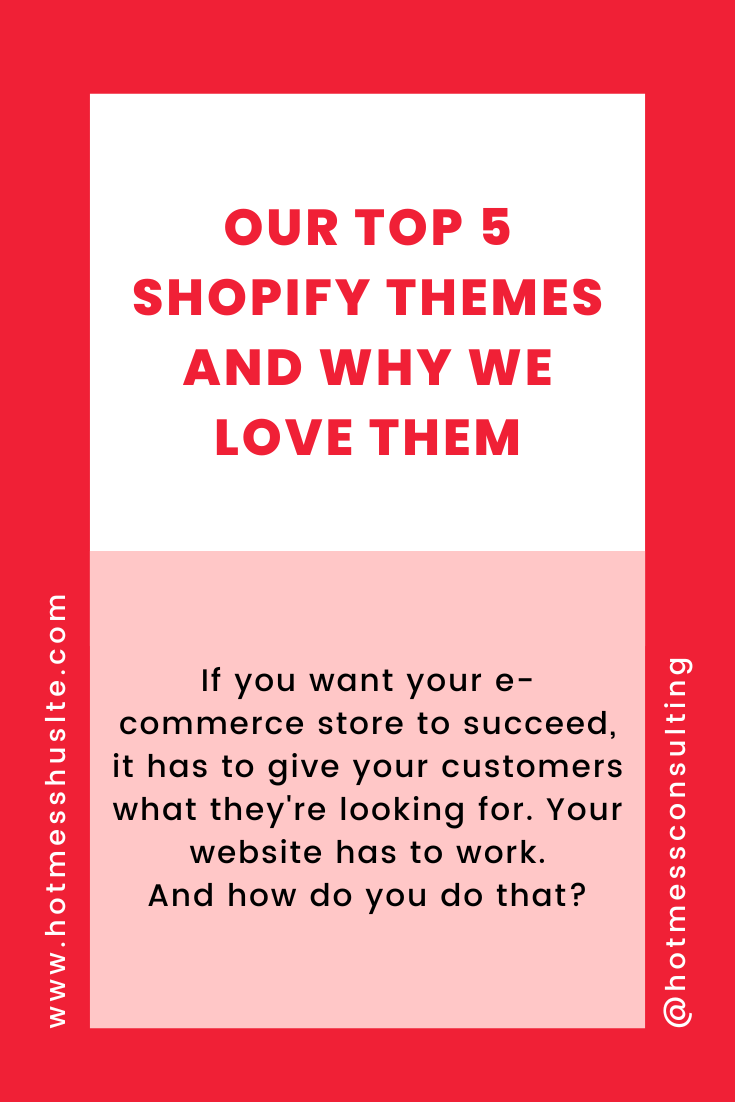 Impulse
Now, one of the cool things with Impulse is that you don't really need graphics for this one - you really just need photos, and if you really get into the theme itself and setting up the homepage you'll see what I mean, but it offers some cool advanced options in terms of being able to use a photo and not having to put in a graphic.
So you can literally add an outline on the photo, you can add a little box with text in it… This can be really powerful for your brand. So if you don't need the graphics, then this is a really good option for you.
And here's why Impulse is Project Manager Sophia's favorite theme:
Pros:
The header is very customizable

You can have a sticky header option

Menu can be split, centered, left, below the logo, or even drawer style

Mega Menus - so good for customer experience

This theme supports using photos themselves if a minimalist look is desired

Homepage photos or graphics can be manipulated for width and height

Parallax enabled

Clean, modern aesthetic

Optimized for mobile

Built in popup

Robust filter and sort options on the collection pages.

Ability to include promotional content on collection pages.  

Tab options on collection pages

Subcollection listing option on collection pages

Built in recommended products and reviews

Pickup availability on the product pages

Excellent theme support from developers
Cons:
Site speed may be an option for some using very large photo sizes.

$180 price
"I wish I could think of more cons. I can't. I love it!" - Sophia
Responsive
It's worth saying that most of the really really cool features on Turbo are also on Responsive.
You can check out my review of Turbo vs Responsive, but also….
Here's why our Project Manager Steph loves Responsive!
You can create special page templates allowing you to create custom sections on more than just the homepage

 

Ability to have a tripanel product page so you can add in extras, such as a model sizing chart:

It also has a mega menu with the ability to add photos to have a really clean and organized overall menu: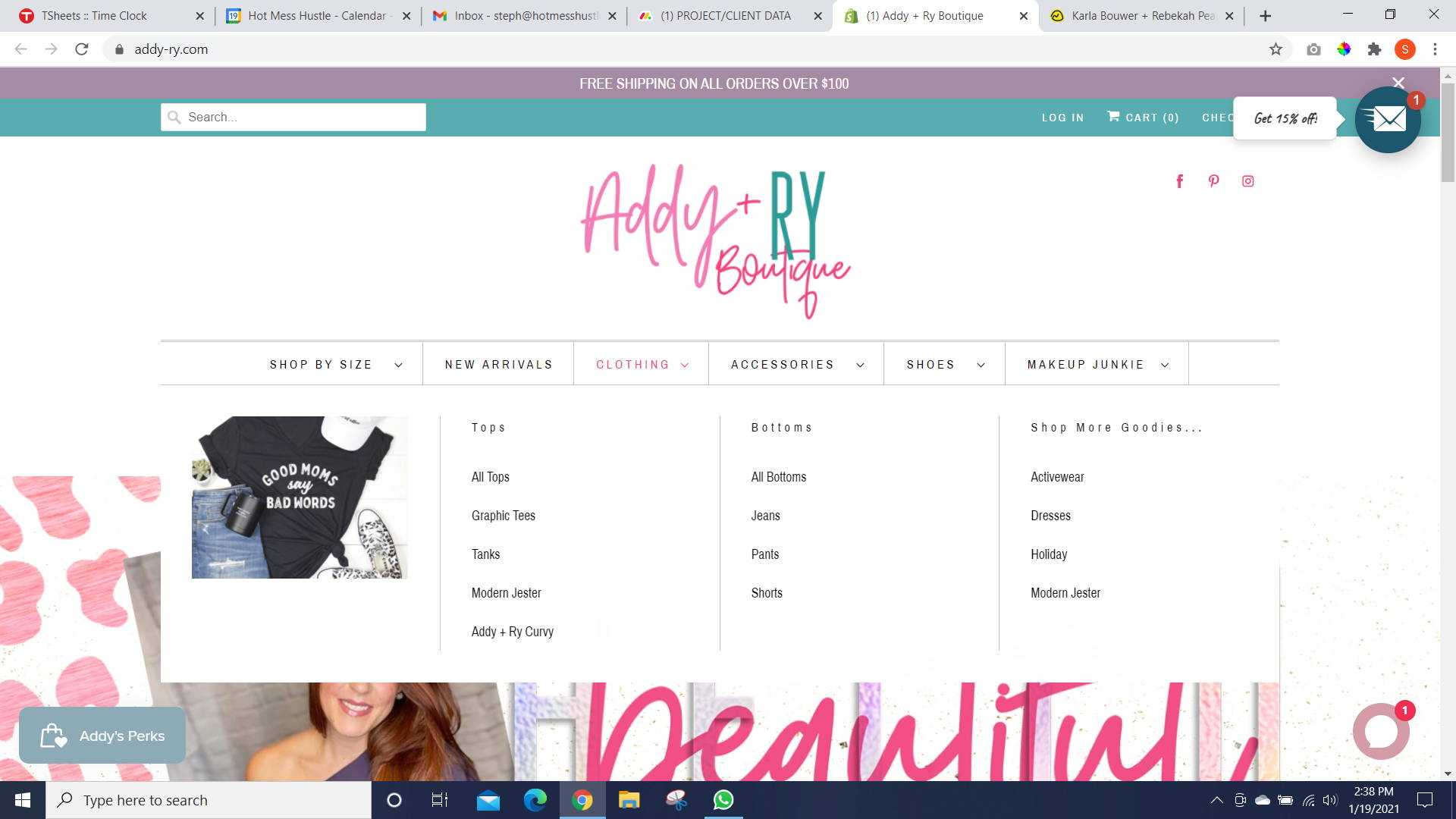 It is super customizable, for example:

multiple options for how your menu looks

ability to use your colors in many different areas to make your brand come to life in a big way

can enable color swatches on products

built in back in stock notifications and reviews

It is simple, pretty and clean: true wide layout, with a clean footer and header.

Cons: It's not the most expensive on this list, but it's still an investment at $180.
BUT this is totally worth it in my opinion, because some of the more custom features do take some time to learn how to figure them out and some require basic coding knowledge.
"Overall, it's a great theme that's easy to customize but can also grow with you as your needs grow and you want to get even more out of your current site, without having to add apps (in most cases) or upgrade your theme." - Steph
Icon
Icon has some really cool tricked-out features that are not super common. One of them is that you can have size swatches, and so if a small was sold out for example, this would be crossed off. This is really helpful so that if someone's browsing they know what is in their size and not.
And here's why this is Project Manager Karla's number one theme!
The available sizes as a custom option for additional info on products displayed under products in collections - so good for user experience.

Zoomed in variant images for color swatches

Great for High quality image display as well as parallax options.

Build in Shop the look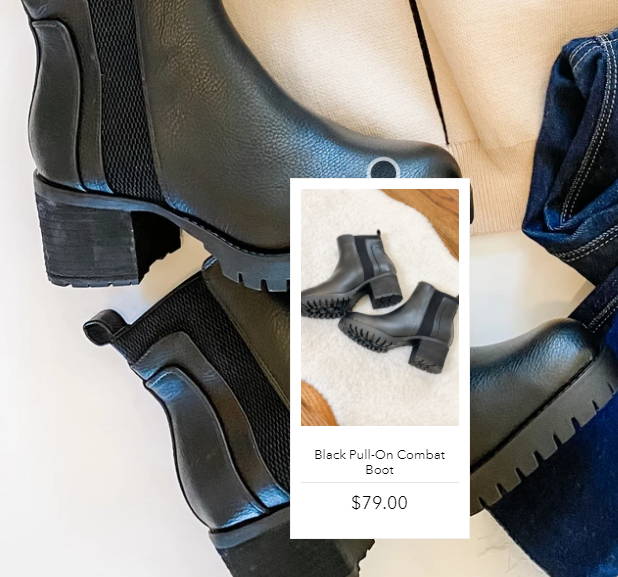 Cons...
There are a number of different places to change different settings

It can be a bit tricky to navigate and set up; you will need time to master the individual settings
Symmetry
Symmetry doesn't necessarily have a tonne of super flashy features, but it does have the key features that we would want it to have. What I like about Symmetry is that you can do some nice color blocking - and actually it's worth knowing that most themes don't allow you to pick the background color.
Here's why Symmetry is Project Manager Riayn's favorite theme!
You can really have a lot of fun with color blocking -- this is a really fun way to make your brand pop, even if your brand is more monochromatic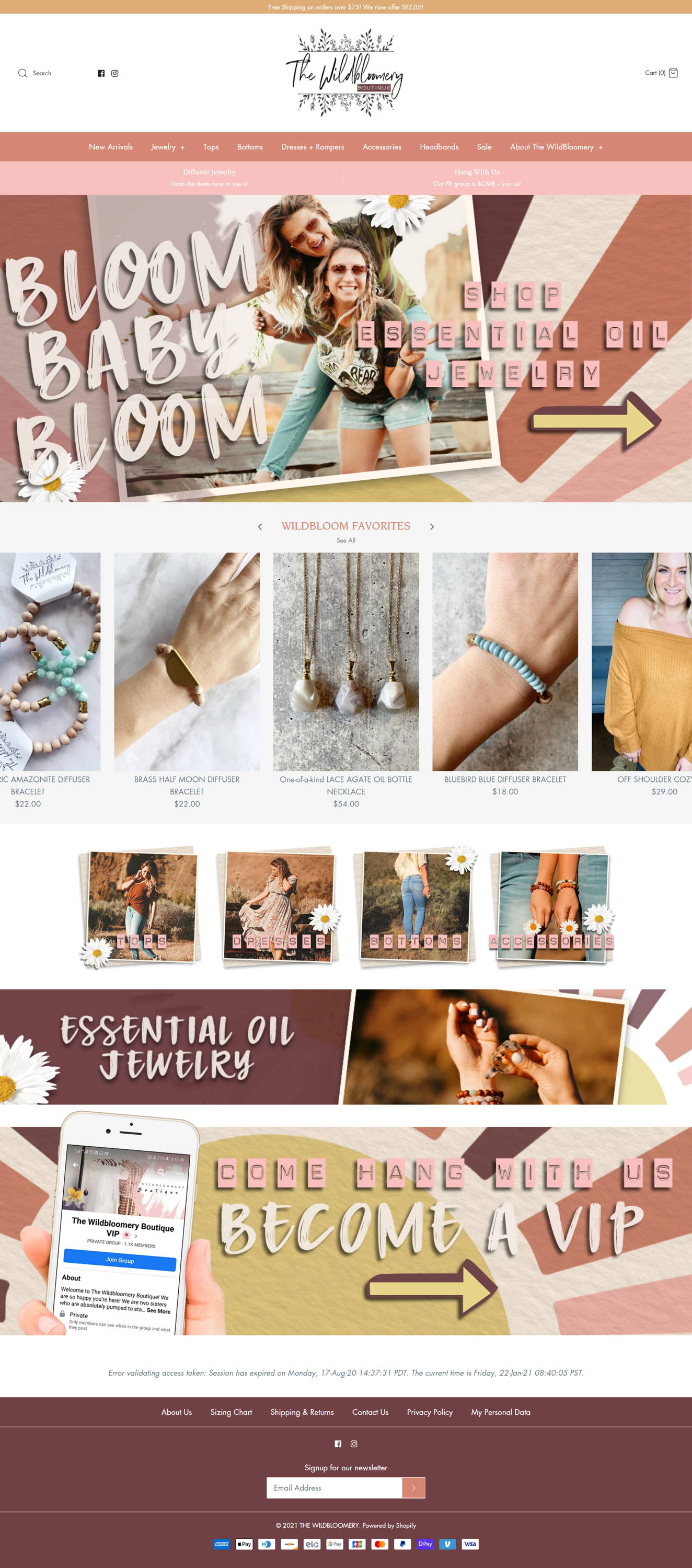 Really clean header and footer, for example. you can have your search/social icons/log in/cart in line with your logo

---
You can highlight 3 announcements underneath the menu 👇

It offers a few additional page templates such as Story (like your about us)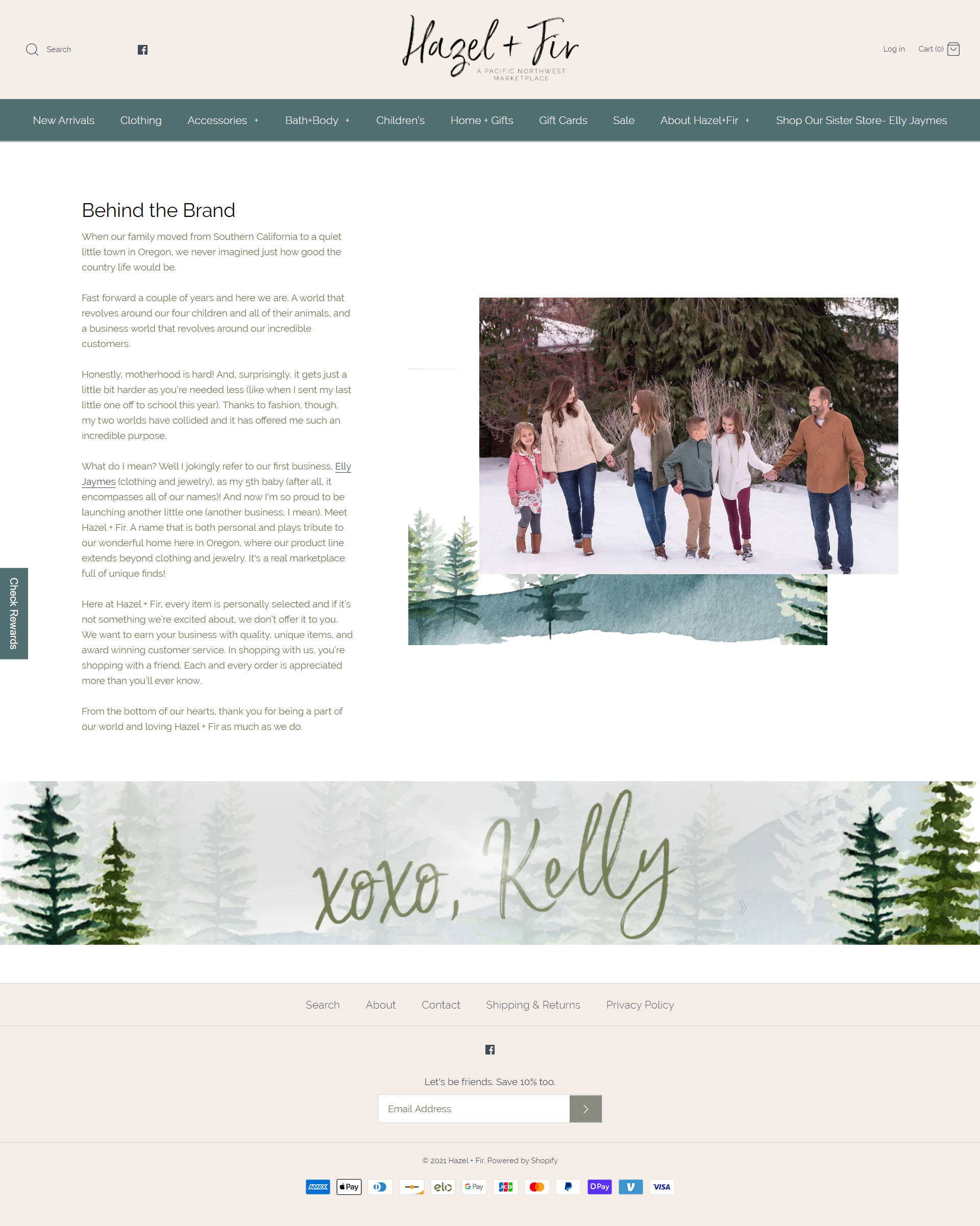 Simple, pretty, user friendly theme to set up
Cons:
Compared to themes that are the same price, with Symmetry you don't have all of the additional features or customizations available (such as custom page templates or tripanel product pages).
So those are our Top 5 paid Shopify themes!
🎁 BONUS - MINIMAL (FREE!)
But to round off our favorite themes, I'll also mention Minimal.
It's definitely still a valid option and we do have clients that choose this one. And If you need something budget-friendly, this is a very basic theme that works.
Some of the nice features are that you can separate the menu from the rest of the page, which we really like. With a bit of coding, you can also do things like have clickable links, or clickable banners, so you can add your own branding.
Other useful features:
It has a responsive & wide layout

Mobile friendly

3 options to choose from

Simple to use - great for beginners

Great for apparel & fashion stores
Cons:
Basic

Not as impactful as other themes
---
Final Thoughts
Remember that when you're picking a theme, it really does depend on your store and what your customers need. So definitely make that wish list of features that you want or need and find a theme that ticks the most boxes. After that, you can add some coding to customize your store further.
It's worth saying here that your website really should always be a constant work in progress. It's something you always want to be working on and improving, especially for the user experience and improving your conversion rates.
So, hopefully this has helped you navigate around themes a bit better, but as always, if you've got more questions or need some help, reach out - we're here for you!
Till next time, cheers!👋
---