Bad-A** Boss Ladies We're Loving: Top Five Favorite Apps for Growing Your Business
Guest Post by: Jennifer Lackey
Do you work from your phone?

Wondering what apps you can use to grow your business?

In this article, you will discover our top five favorite apps.

Growing a business in 2020 is so much different than it was a few years ago!

You can run your business solely from your phone which is great, but do you know which apps you should be using?
Social Media is all about sharing quality content with your followers. Wordswag is a great app that allows you to create images for any social account in minutes. We literally use this app every single day to create eye-catching graphics that will bring more engagement to your page.
To get started with Wordswag you can add photos directly from your camera roll on your phone or you can grab free images from their stock library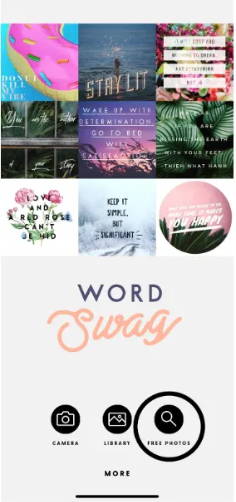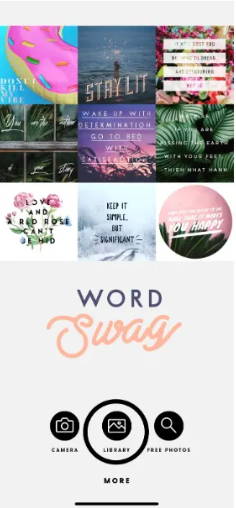 They also have a section at the top of the app that lets you search thousands of photos sponsored by Pixabay - a website that provides copyright free images. In the example below we searched "Flatlay" - which is very popular for Instagram right now - and these are the images that popped up with our search. There are so many options to choose from, but we are going to grab this pink folder flatlay for our example today.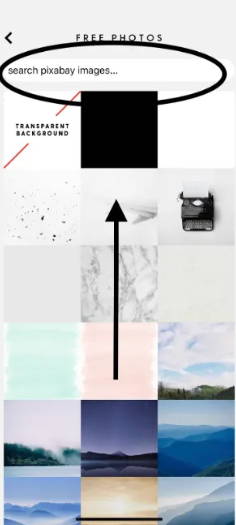 Once you have picked out your image to use, whether that is your own photo or pixabays, you will need to adjust the size to fit the type of social media you will be posting to. For this example we chose "Square" to fit our Instagram post.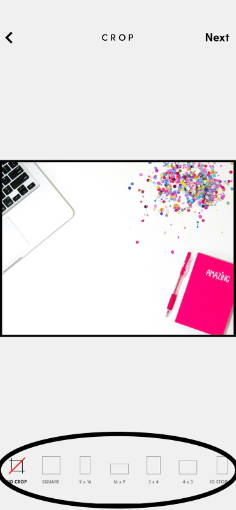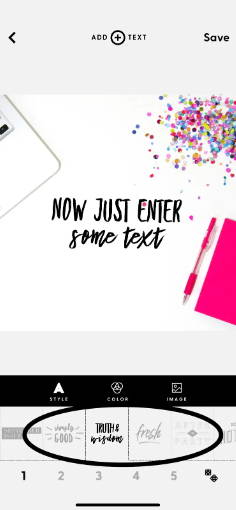 Once you have selected the size of your photo, you can then add text by choosing any of the fonts below. Wordswag has a lot of fonts to choose from in their free version, but with their paid version you unlock all of their fonts. Once you have picked your favorite font you can click the "1 2 3 4 5" to give you different variations and sizes.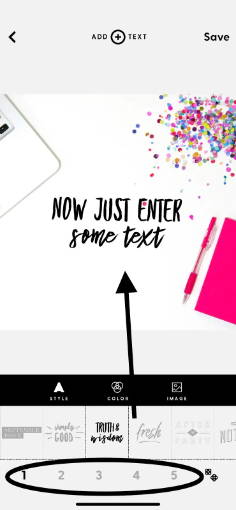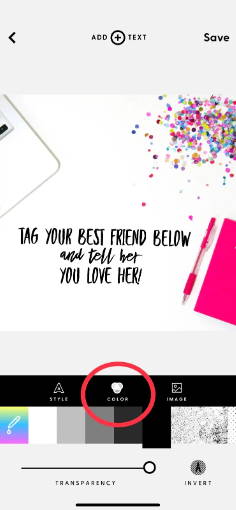 WordSwag allows you to take your branding to the next level, by offering images and fonts, but that's not all! You can also choose whatever color or texture you would like for your graphic. All in all this is a super easy app to use to create images on the go for your social media. We highly recommend this app for all your social media graphic needs!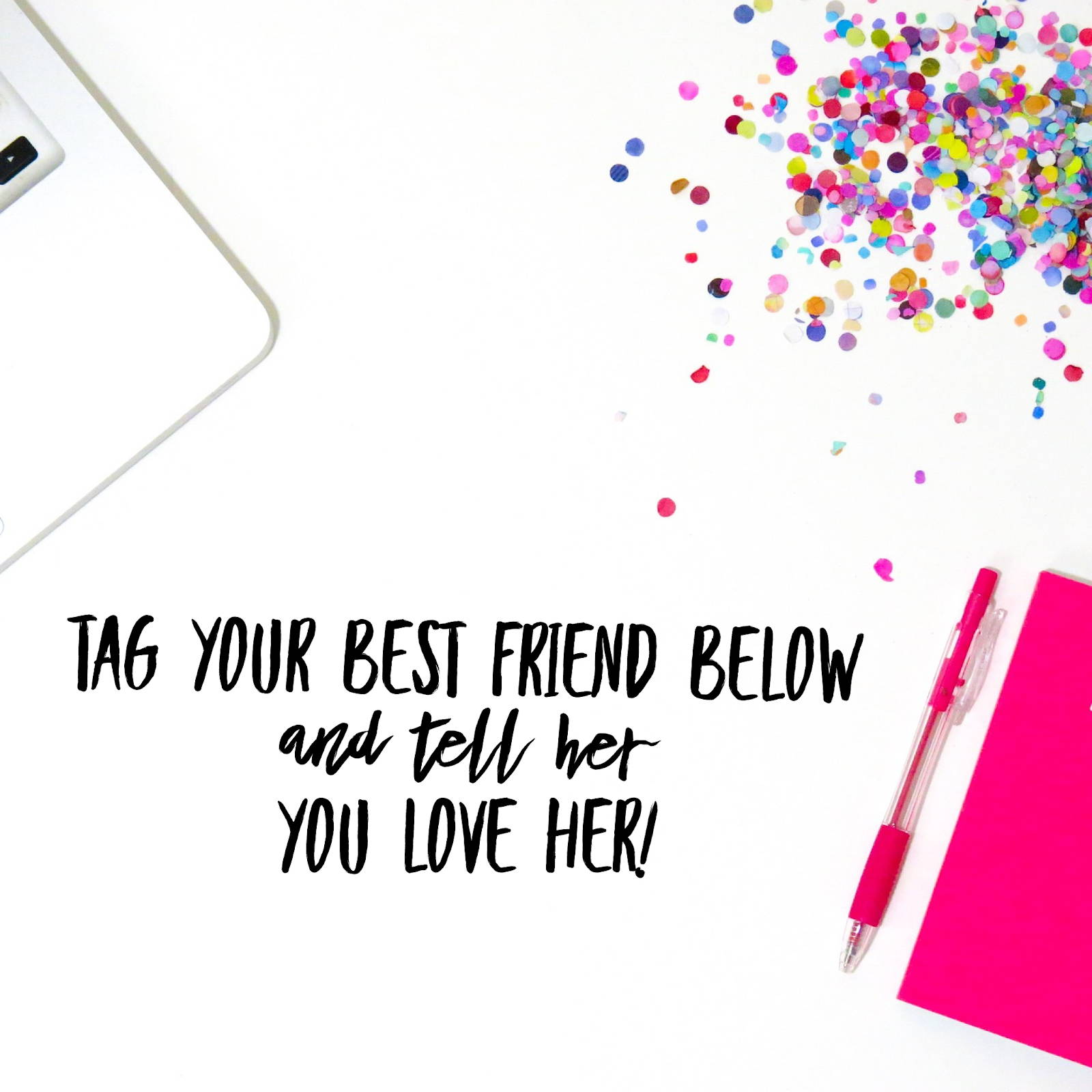 This is just one of the many features we use with the WordSwag App.
Other features include:
Quotes and jokes library to help brainstorm content ideas.

Typomatic Engine that puts your text into different format in seconds.

Ability to add your logo.

Video Tutorials to get creative with the app.

Sharing options to share directly to your social media accounts.
WordSwag is a free app for iOS and Android, and offers in-app purchases.
*BossTip*
Add a call to action on your photo like we did above "Tag your best friend and tell her you love her" which encourages your followers to tag and engage on your account! Also, always make sure you are using copyright free images when creating graphics. NEVER grab images from google as this could result in copyright infringement. We love these sites for copyright free photos: StoPhoto, Pixabay, and Unsplash.
Social Media is all about catching people's attention and video has become the best way to do this. The app we love for creating videos is Videoshop which allows you to create videos inside of photos. We like to use this app to create IGTV, Facebook, and YouTube videos!
To get started with your project you will want to click the "+" button in the top right hand corner and either record a new video or import clip from your camera roll.
To create videos inside of photos you must first create your photo inside another app, like Canva or Wordswag. Then add the photo inside of the Videoshop app.
Once you have added your photo you will scroll to the left till you find the "impose" button and add your video file. (This is only available in the pro version).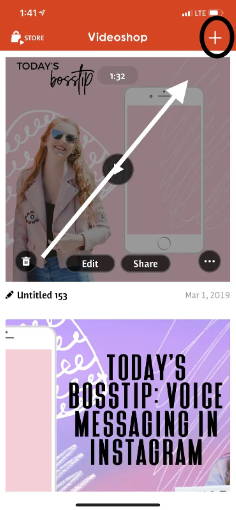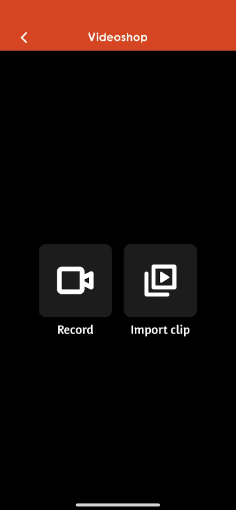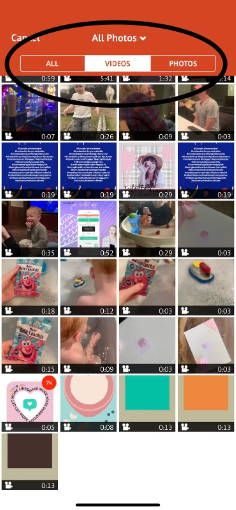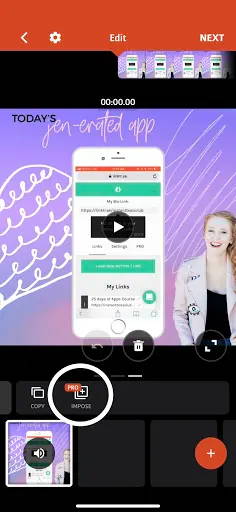 After you have imposed your video and photo you can hit next in the top right hand corner and you are all set to post on any social account or download into your camera roll!
This is just one of the many features we use with the VideoShop App.
Other features include:
Adding your favorite music to your videos.

Library of copyright free music.

Ability to add different types of sound effects to grab attention.

Trim your videos to cut out any unwanted footage.

Adjust the speed of your video, by slowing down or speeding up.

Add in subtitles to make your video SEO friendly.

Combine option to merge multiple videos together.

Video filters to give your videos a more branded look.

Animated Text to make your intro more eye-catching.

Sharing options to share directly to your social media or friends.
VideoShop is a free app for iOS and Android, and offers in-app purchases.
*BossTip*
To resize your video vertically or horizontally, use the InShot App.
Do you have a favorite account you follow just to watch their Instagram Stories? Most likely these accounts are using the StoryArt App, which allows you to input your photos into a beautifully crafted template. This app makes turns your dull Instagram Stories into professional looking stories in minutes! Wondering how all these bloggers are creating eye catching Instagram Stories? StoryArt is the best app for this, let us show you why!
To get started, open up the app and choose which template you would like to get started with. Once you have chosen your template, simply upload your photos into the template.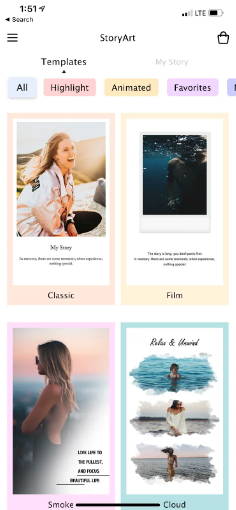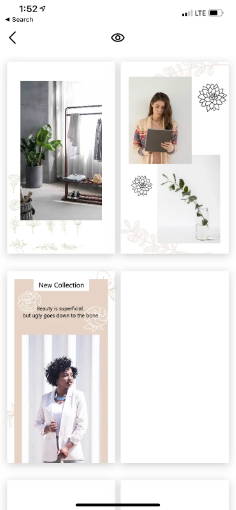 You can also add different fonts to your text and change the color to fit your brand. We love using this app when we do brand collaborations, because it's fast and easy to use.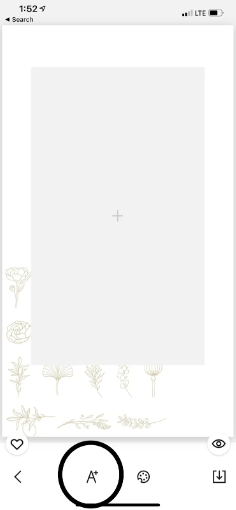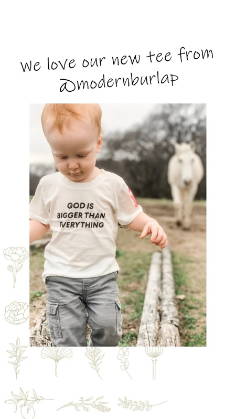 This is just one of the many features we use with the StoryArt App.
Other features include:
Adding music to your Instagram Story Template.

Voice Recording options.

Animated emojis to spice up your stories.

Varies background images, including animated videos.

Animated texts and fonts.

Change the background color to fit your branding needs.

Save and Share to Social Media options.
StoryArt is a free app for iOS and Android, and offers in-app purchases.
*BossTip*
Are your camera roll images looking dull? Add a lightroom preset to your photos and change the look in seconds!  
Are you wondering how so many accounts have different icons for their stories highlights? There are so many ways to create Instagram Highlights, such as Canva or Creative Market, but our favorite app for highlight covers has to be PhotoGrid. PhotoGrid makes the whole process so much easier as the photo is already on your phone to upload to Instagram.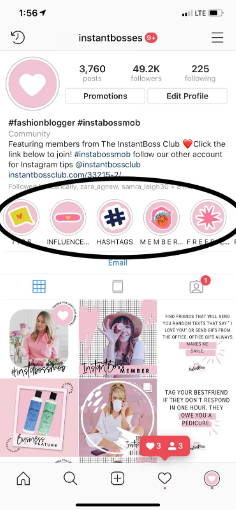 To get started with PhotoGrid simply click the "scrapbook" option in the bottom left hand corner and add in a solid background photo from your camera roll. You can grab a solid background from the WordSwag app before you get started if you don't already have an solid image to work with.
From there you will scroll to the left and click on the sticker option. PhotoGrid gives you so many icons to choose from but mostly girly options. They also have an area to search for more "stickers" and purchase them as a group. Once you have chosen a sticker pack, click download.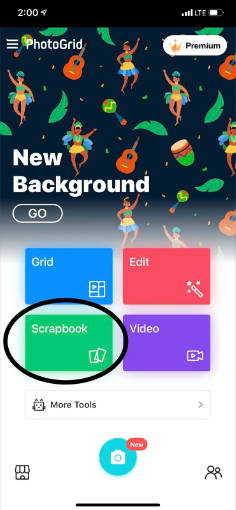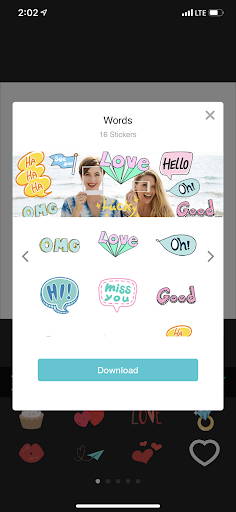 After you download your stickers, click on the one you would like to use and upload it to the photo and download to your camera roll. To upload your completed highlight cover, you will then go into Instagram and click "edit highlight".
Then to grab the image from your camera roll, scroll all the way to the left to find the square box. Upload the photo, resize to fit and click done!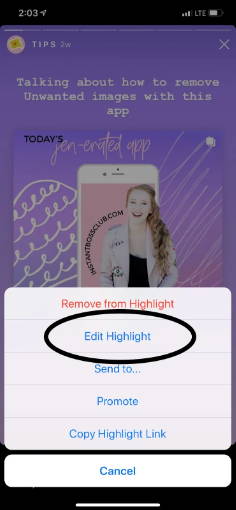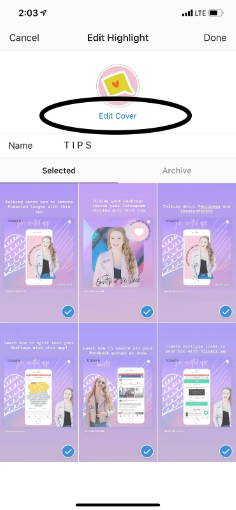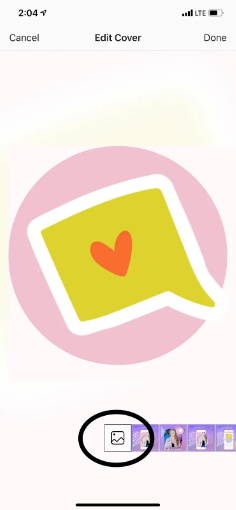 This is just one of the many features we use with the PhotoGrid App.
Other features include:
Create a grid or frame with your photos in seconds.

Combine videos and photos with easy to use templates.

Editing tools such as crop, borders, blur, watermark, beauty, text and so much more.

Ability to create horizontal or vertical filmstrips.

AR face filters for photos or videos.

Easy to create memes and GIFs

Slideshow capability with the option to add music

New stickers, backgrounds, filter and posters updated every week.
PhotoGrid is a free app for iOS and Android, and offers in-app purchases.
*BossTip*
If you choose to write text inside your Instagram Highlight photo, be sure it is written large enough and in bold letters so your audience doesn't miss out on what you are trying to convey.
Everyone knows hashtags are a great way to get your Instagram more exposure, but how do you know if the hashtags you are using are working for your account? This is where SmartHash steps in, this app allows you to split test your hashtags and see which EXACT ones are working for you.
To get started simply login to your Instagram account with Smarthash, then upload the hashtags you are currently using into the app.
Once your hashtags have been uploaded, SmartHash will go to work and tell you how your hashtags are performing based on a color scale. The red means it's getting the best engagement, yellow and orange mean the lowest performing and grey means it's not working at all or there isn't enough information on the hashtag to pull from.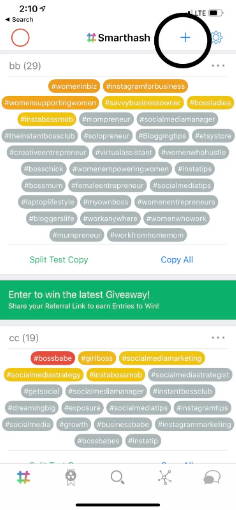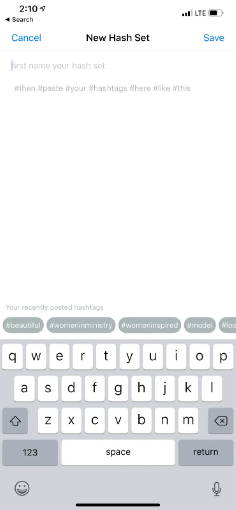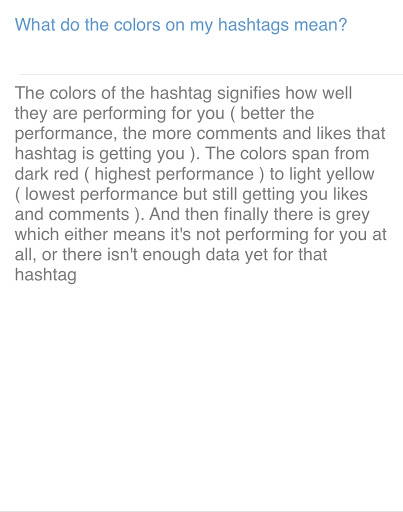 This is just one of the many features we use with theSmartHash App.
Other features include:
Ability to Split Test Hashtag sets.

Save and Copy Hashtag Sets.

Intuitive Heat Map that tells you which hashtags work and which don't.

The Comment Inbox - allows you to see and respond to all comment made on your posts.

Affiliate Referral program.

Support Chat with the CEO Chris Allan Li

Instagram Tips and Smarthash Featurettes that share in-depth tutorials.

Occasional Giveaways to enter into.
SmartHash is a free app for iOS, and offers in-app purchases. They do not have an android version but will be rolling out with a desktop version soon.
*BossTip*
SmartHash has a ton of other features as well, one of our favorite is their Instagram Tips and SmartHash Featurettes area where they share some tutorials to help with your hashtag endeavors! Be sure to find niche hashtags that fit your genre such as #instabossmob #risingtidesociety etc as these are not too broad nor to specific and might also get you featured on Instagram feature accounts.
Mobile Apps have come a long way in the past few years which allows us to virtually work from anywhere via our phones. There are so many great apps out there, and these five mentioned are just the tip of the iceberg. A few of our other favorite apps include:
Well, that's a wrap, so tell us, which was your favorite app? Do you have an app you can't live without? Comment below and let us know!
Want more information on growing on Instagram? Check out instantbossclub.com
Jennifer is the Founder and CEO of The InstantBoss Club, a membership site where she teaches over 7,000 bloggers, business owners, and influencers how to be successful on social media.

Jennifer founded The Club after her first year of running her online women's boutique exclusively using Instagram. After her wildly successful year, she had other women asking how she was able to do it. That's when she created The InstantBoss Club, since the start of The Club in 2015 she has helped her students collectively gain over a million followers and make hundreds of thousands of dollars with their businesses.

Jennifer has been recognized by Voyage Magazine, The Daily Dot, The Boutique Hub and was ranked in The Top 50 Instagram Blogs of 2018 by FeedSpot.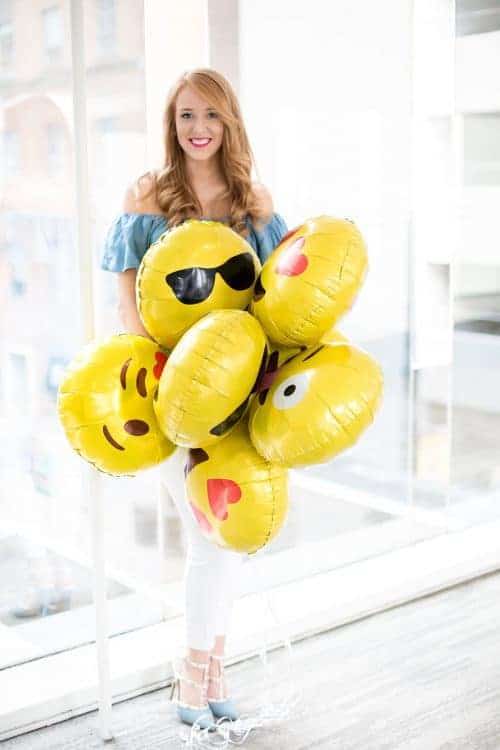 ---