Conversion Rate Q&A Part 4 - Where to start for beginners and what to prioritize
Welcome to the final part in our Q&A series on Conversion Rate Optimization 🎬
This series has covered all aspects of conversion rate optimization: what it is, what lowers your conversion rate, how to increase it, and the #1 mistake to avoid when it comes to optimizing for conversions! In today's final instalment, we are looking at where to start for beginners and what to prioritize when it comes to conversion rate optimization.
And if video is more your thing, check out our Q&A episode with our very own Hot Mess Head Dreamer, Angela Froschl and Project Manager Karla Bouwer as they answer the top questions we get asked by store owners about conversion rate optimization.👇👇👇
But for now, let's dive into conversion rate optimization for beginners!
---
Where to start: Conversion Rate for Beginners
Conversion rate optimization can seem intimidating at first, with a never-ending list of tweaks and to-do's for your store. But fear not! It doesn't have to be that way. The trick is to make changes one thing at a time so that you can keep track of what works and what doesn't.
What will guide you the most is thinking about your customer journey and what their needs and concerns are.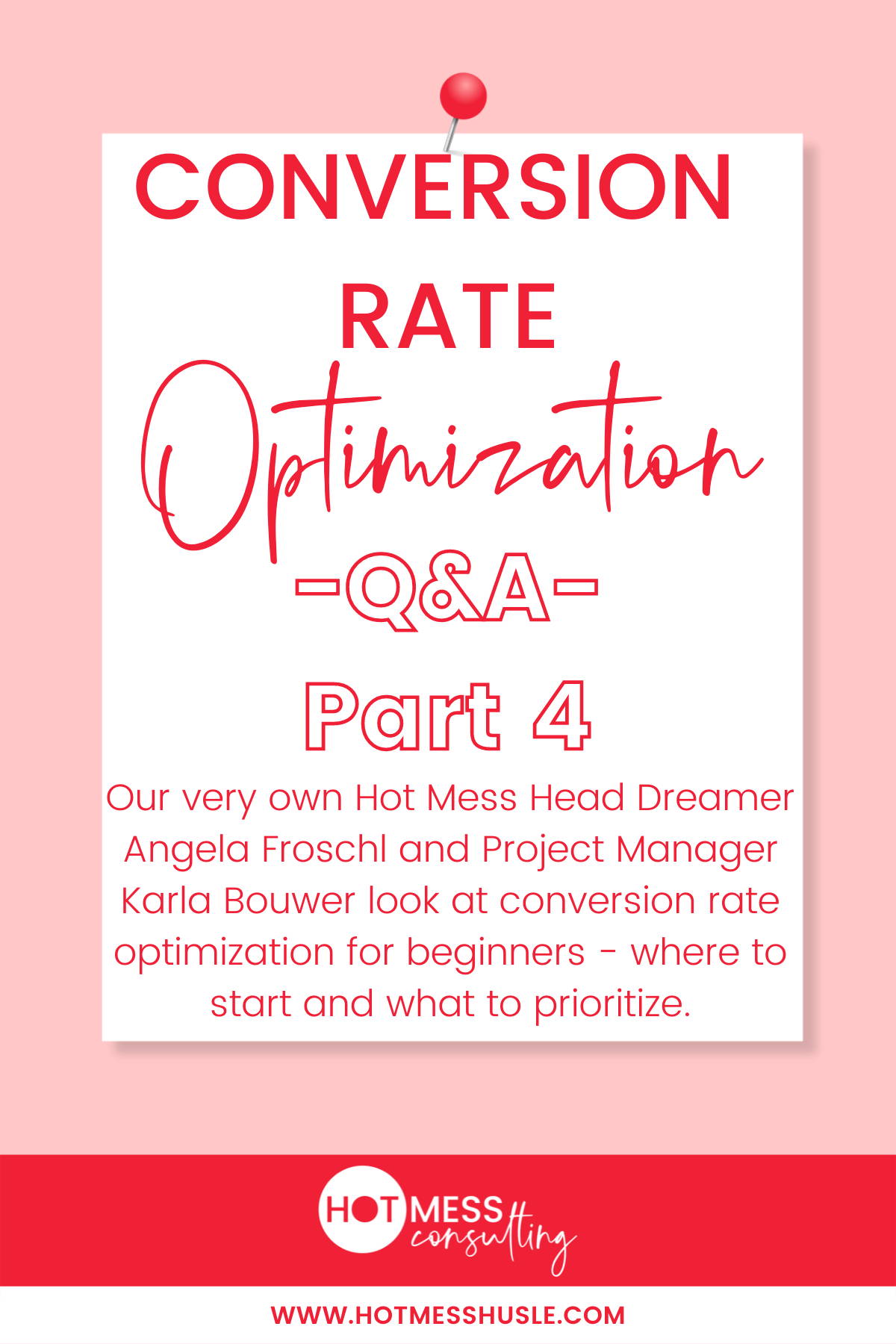 Because if you're doing everything that you can to reduce friction in their journey to make it as smooth an experience as possible, giving them what they want, you will see this show up in your results. And by results, we mean your conversion rate and therefore your revenue of course!
But you came here to learn what you can focus on to get the most bang for your buck, right?
So let's dig in a little deeper!
In our experience, there are three places to focus first. 
Consider this the low hanging fruit - these are the basics, and getting these three things right for your audience will reap the most rewards
Our Top 3 Focus Areas to Improve Conversion Rate
Here's the thing: product photos make or break a sale - they are what convert a window-shopper or a browser into a customer. Some platforms say that up to 90% of their customers rank quality of photo images as the most important factor in their online purchases. It needs to be high resolution, but it doesn't have to be a professional photograph - these days you can take great photos on your phone. So make sure your photographs are doing your products justice!
🔴 Quality Product Descriptions
Similarly, your product descriptions need to be selling your products. Like, really selling them! Using keywords is super important so that people searching for items out there in Google can find them in your store. Make sure that all the relevant information is included, and that the copy is written in your brand voice and is talking to your audience. According to one study, 87% of customers say that product descriptions are an extremely important factor in purchase decision making.
Last but not least, make sure that your menu organization is clear and intuitive for your customers to navigate. Mega drop down menus are a great way to organize large collections into categories and subcategories. Plan your categories from the very beginning, and this will save you so many logistical headaches down the road. If you can set it up well from the beginning, you're on the right path!
These three areas are so important when it comes to conversion rate optimization - and they crop up surprisingly often in our recommendations. You've probably heard us say it before, but honestly, we will just keep repeating it because it is that fundamental!
But once you've got these elements covered, what next?
What else should you prioritize with Conversion Rate Optimization?

In addition to product photos, product descriptions and menu organization, we suggest you focus on the following features of your store.
We said earlier that it is important to plan out your categories carefully in advance, as this will help you plan out your store and how you organize your products into collections. One thing to bear in mind is to keep on top of your seasonal categories - when a season has passed, take it down so it doesn't get outdated.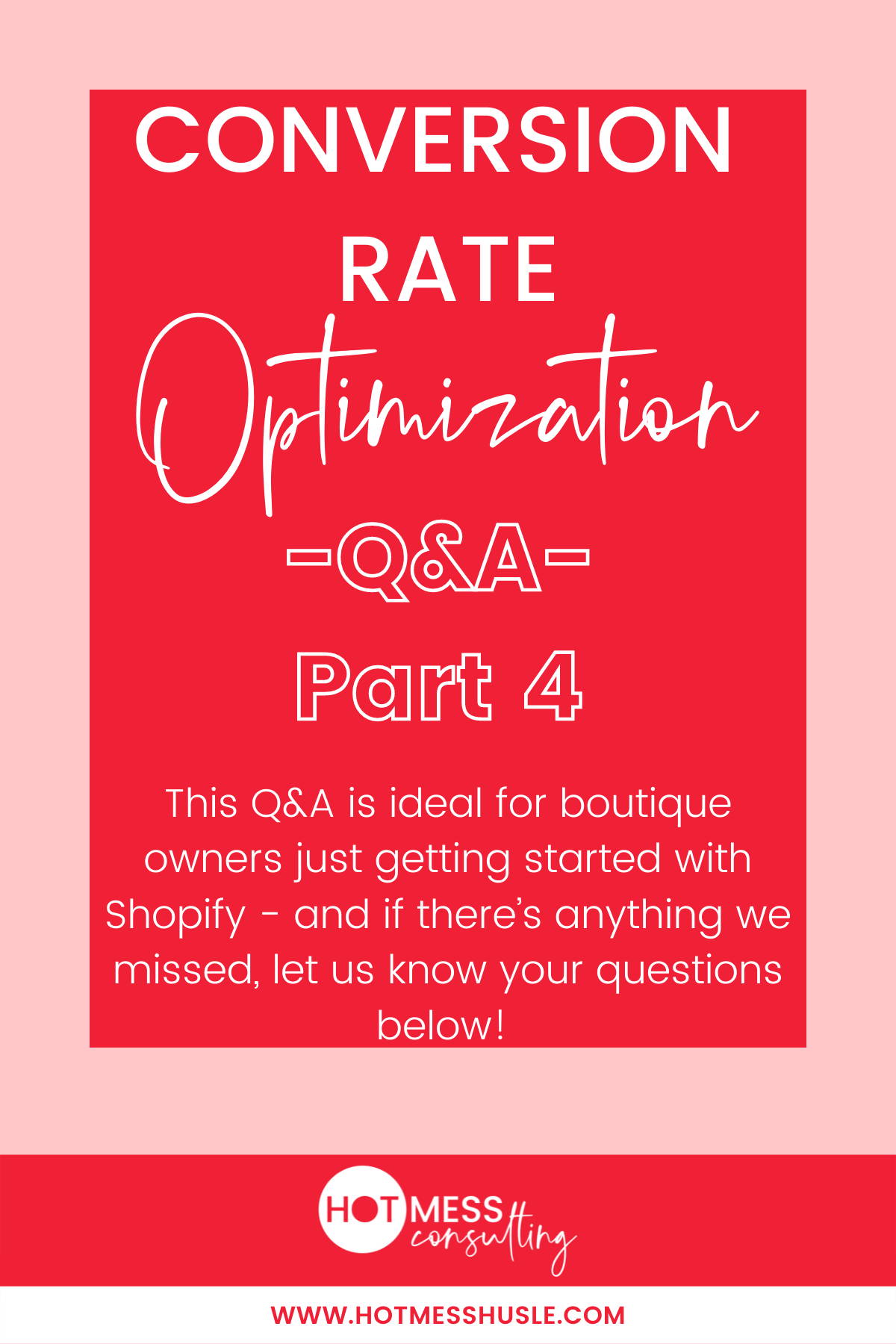 You don't have to delete anything - keep it for next year! But you just want to keep everything nice and fresh.
You also need to make sure your shipping and returns policies are clearly visible and comprehensive. We've seen it happen where boutique owners have had to make it up on the spot and that is just asking for a whole heap of trouble. Do yourself a favor and think about it from the beginning, and have a clear returns policy displayed on your site.
One last thing for optimizing conversion rates is to always make sure your call to actions, specifically your 'Add to Cart" & "Checkout" buttons are clearly visible above the product description. This means that if your customer knows what they want, they don't have to scroll through a heap of text to get to the button - they can just add to cart straight away.
Remember - the goal is to reduce as much friction as possible and to make it as easy as possible for the customer to make a purchase in your store.
Too many boutique owners place the buttons below the product descriptions without even testing if people are more or less likely to make a purchase when they have to read a bunch of text or scroll down to find the Buy Now button.
---
---
Before we finish up here, we just want to reiterate something super important when it comes to conversion rate optimization:
Your website and store will always be a work in progress - and that's ok!
Conversion rate optimization is something to keep monitoring, to keep tweaking, and to make changes slowly, one at a time. It will always be a work in progress. Your customer will evolve and change and adapt, and it's your job to adapt and grow with them.
Our best advice for experts and beginners alike is to only ever change one (small) thing at a time and then monitor how it affects your Conversion Rate. If you change too much at once, you will never know which change was the one that moved the needle. And don't just change things on a whim - do it in response to the data! You have to do what works for you and your store, so pay attention to what is working (or not)!
Of course, what works for one might not work for all - that's why we don't give specific tips like make sure the button is big and red with yellow capitalized text! It just doesn't work like that. You need to tweak the graphics and the copy to suit your brand personality, and that will be a reflection of what your audience wants. In other words, know your audience and always be learning about them!
Remember, every little thing that you do to your website can have an impact, so it's one change at a time!
And that's about all we have time for in this post on conversion rate optimization for beginners!
We hope this post has helped you get clear on what to prioritize when it comes to conversion rate optimization. We're wrapping up this series now, but if you've got more questions, leave 'em for us in the comments, or check out the rest of the Q&A here! 
Cheers to your Shopify success!
💋💋💋
---